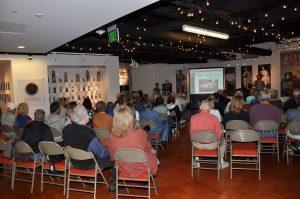 On Saturday, October 27th, more than 40 Olympians who represented the United States in the 1968 Olympic Games in Mexico City, along with spouses, friends, and family members, arrived in Austin for a special reunion weekend.
The reunion was organized by the Stark Center's Dr. Thomas Hunt, the 1968 US Olympic Team's reunion coordinator, Tom Lough (1968 Modern Pentathlon) with assistance from Desiree Harguess, and Cindy Slater.   It was a two-day affair and included an extensive program at the Stark Center on Saturday followed by a BBQ lunch.
The highlight of the presentation to the Olympians on Saturday was the discussion by Dr. Hunt of the 1968 Olympic Team Oral History Project on which Dr. Hunt and a group of graduate students have been working for the past several years.  Dr. Hunt and his students have now interviewed more than 70 Olympians, and their interviews are gradually being added to the online digital archives of the Stark Center.  To learn more about the 1968 Oral History project, click here.