For 15 years renowned artist David Deming and I shared The Forty Acres—as we call UT's main campus—but our paths never crossed. Deming was in the Art Department teaching sculpture, then serving as chair of the department, and finally as Dean of The College of Fine Arts until he moved back to his hometown in 1998 to become President of the Cleveland Institute of Art. During those same years, Terry and I were teaching weight training and other classes in Kinesiology and Health Education.  We were friends with other Art Department faculty like painters Kelly Fearing, and Vincent Mariani, (who won the Mr. Cleveland Bodybuilding title before teaching for nearly 50 years at UT-Austin). But, we had never met David Deming in the 1980s and 1990s. 
Our first meeting with Deming happened in 2012, by accident, but that chance meeting became a true friendship and even inspired the Degrees of Fitness/Sporting Bodies exhibition now in our galleries. It happened as Terry and I were walking back from a workout and detoured to the south end of the stadium to see the giant statue of Heisman winner Ricky Williams being installed that day. As we approached it, we were knocked out by the statue's size, its incredible likeness to Ricky, and what I can only call its grandeur. We paused to take it in and then noticed an athletic-looking guy in a t-shirt and jeans cleaning it off and giving it a final polish. It was David Deming and for the next 30 minutes we talked about his amazing statue (be sure to check inside the helmet next time you see it as David left no detail to imagination), shared some Ricky Williams stories, told him about the Stark Center, and invited him to come by and see it for himself.  David did just that, visiting us before he headed back to Cleveland, and since then he's been back many other times as he continues to populate the UT campus with figural sculptures he's made for UT Athletics and other entities on campus and he always visits The Stark when he comes.
In 2014, to our great surprise, David even made a bas relief medallion of our faces and gifted it to us for the Center. He told a reporter at the time that he did it because, "I felt compelled to do something to recognize their scholarly contributions and the tireless effort they put into building the Center. I know they like to honor others – that's very obvious when you visit the Stark Center – and it seemed like it was time for someone to honor them. Many people don't realize what a world-class research facility the Center is."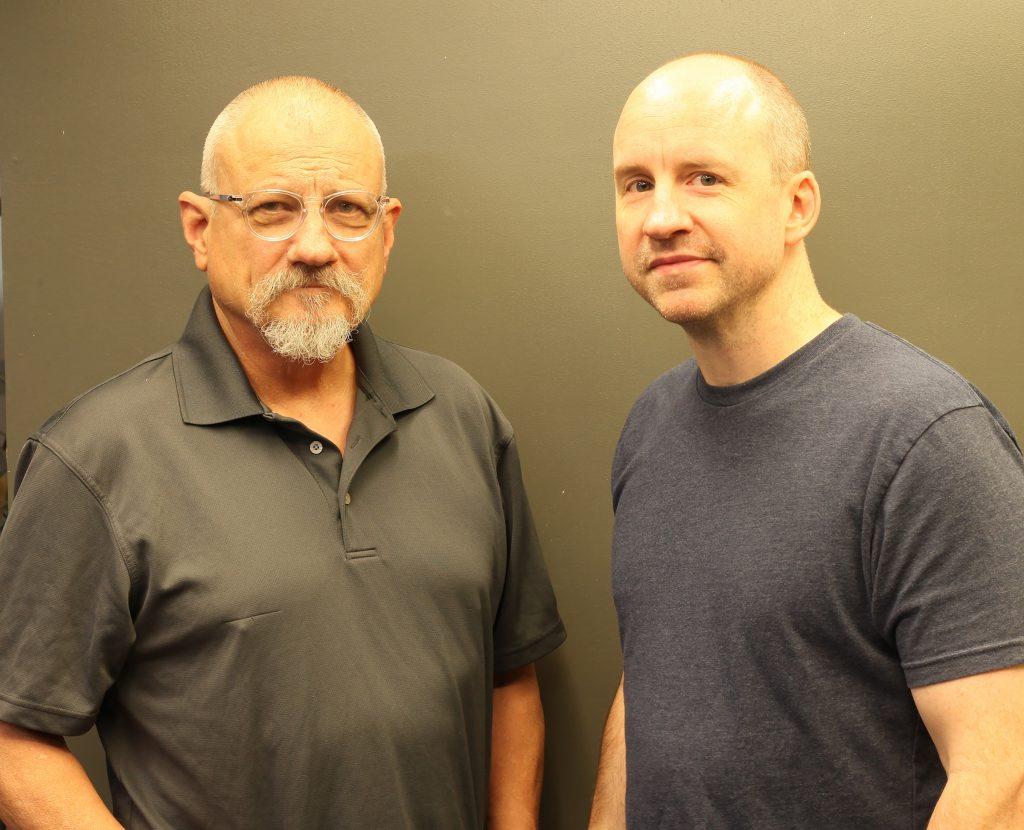 Earlier this month, David surprised me (and honored us) again when he and his son, and fellow sculptor, Michael Deming, hauled a trailer from Cleveland to Austin filled with more than 20 sculptures of bodybuilders, athletes and female nudes, all destined for the Degrees of Fitness/Sporting Bodies exhibit now in our galleries. Included in those 20 statues were ones of Terry and me, capturing us as young powerlifters.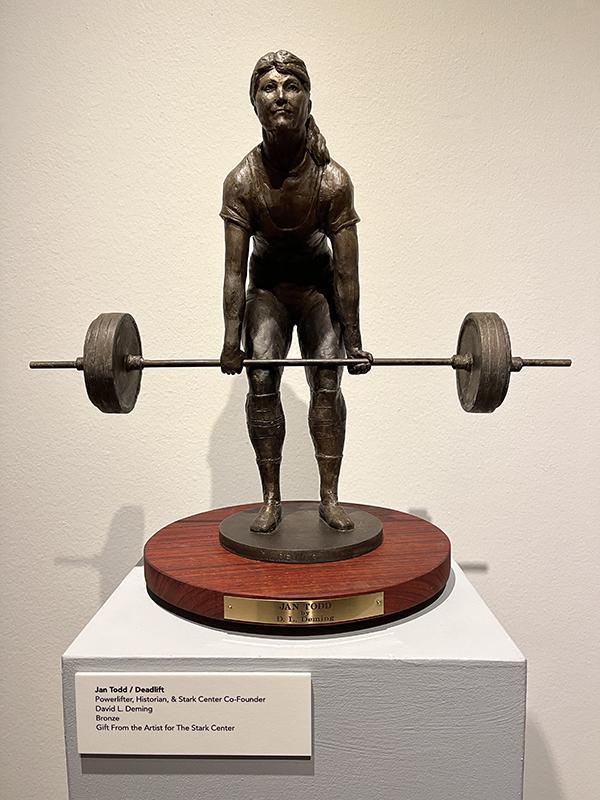 To my great surprise, David then told me he was donating these two pieces to the Center. I'm not sure I can articulate how much that means to me, or how grateful I am for his generosity. Thank you isn't really sufficient. Looking at the statues brings back so many good memories of what my life was like in those years. It feels like I've received a double gift—the statues themselves and the memories they evoke in me. Somehow, just saying "thank you" feels inadequate. What I do know is that David is an amazing friend, and one of the folks in my life that make me continue to believe that the title for this intermittent blog—"It's a Good Life"—is well chosen.
*****
Degrees of Fitness/Sporting Bodies is open in the Stark Center's Galleries from 9am-5pm on weekdays and admission is free. For this exhibition, David Deming has brought primarily figural pieces of athletes and nudes, many of which are life-sized. His working model for the Ricky Williams statue is coming later this month to join the exhibition.
Michael Deming, David's son and a talented sculptor himself, also does figural work; and many of his pieces connect to the world of strength. For example, Michael made the Donald Dinnie and Katie Sandwina statues that are given as bronze trophies at the Arnold Sports Festival. In this show, he displays those, along with beautifully rendered statues of Arnold Schwarzenegger, Eugen Sandow, bodybuilders Dorian Yates and Serge Nubret, and boxer Muhammad Ali. Some of the pieces in the exhibition are for sale by the artists. To learn more about the artists and see more photos of the exhibit, go to: https://starkcenter.org/research/collections/degrees-of-fitness-sporting-bodies/
To see more of the artists' work, please visit: https://demingart.com/
To follow David Deming on Facebook, please visit: https://www.facebook.com/DavidDemingSculptor/