Since we began Iron Game History in 1990, we've dedicated a full issue of Iron Game History to one person as a memorial tribute on several rare occasions. The last person to be so honored, in fact, was Olympic weightlifting gold medalist Tommy Kono whose life is detailed in a special double issue of IGH published in 2017.
Last month, however, we mailed out a very different kind of special issue about the life of Terry Todd, who passed away in 2018. Instead of having people write tributes to Terry, I decided to republish pieces written by Terry at various stages of his life with introductions, written by me, that explain what we were doing at that stage of our lives—and why these particular pieces of writing mattered. As I say in the introduction to what I called The Terry Todd Collectanea, "I decided that I wanted to let you hear his voice—and mine, admittedly—and to share with you both personal and private pieces that he wrote in different phases of his life that to me reveal his character as a man, his intellectual growth, and his impact."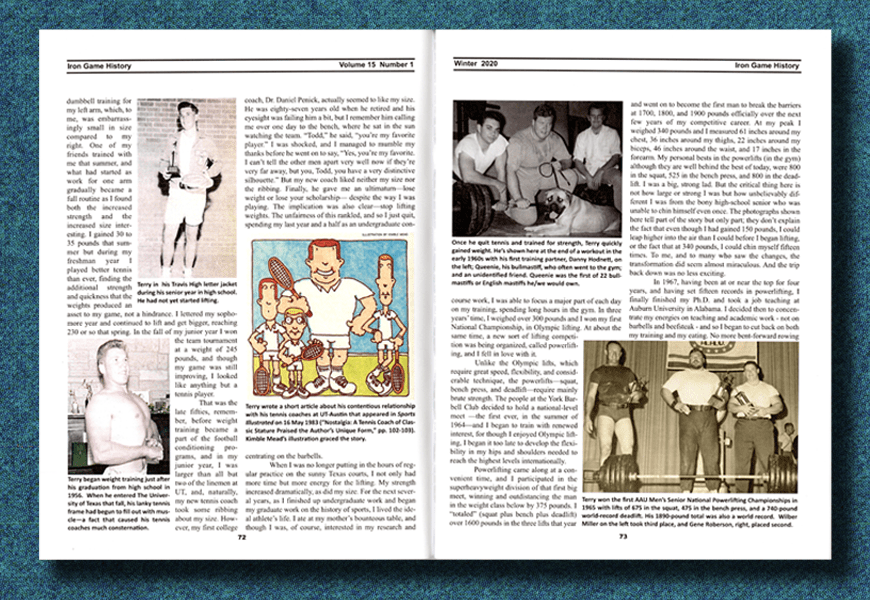 Little did I know, when I chose this way to memorialize Terry's life and legacy that it would prove to be such a big job. Every part of creating the 132 pages of this special issue proved harder than I expected because Terry lived such a "large life." I looked at several thousand photos for example, before winnowing that down to the 123 images I included in the layouts for the special issue. My Stark Center friends, Kim Beckwith, Kyle Martin, Ryan Murtha, and Cindy Slater, helped me over several months locate Terry's articles in various books, magazines, and newspapers (he wrote more than 500 articles), and then to scan those that seemed likely, convert the scanned PDFs into type using character recognition software, and then to correct and proofread the text versions. At the end I had about 50 different articles I'd shortlisted for the project, which eventually came down to 20. I also went through Terry's files and archives looking for letters and unpublished pieces—like some of his journal entries and a letter to Milo Steinborn—that I also decided to share. In other words, it turned out to be a more complicated and larger project than I imagined it would be.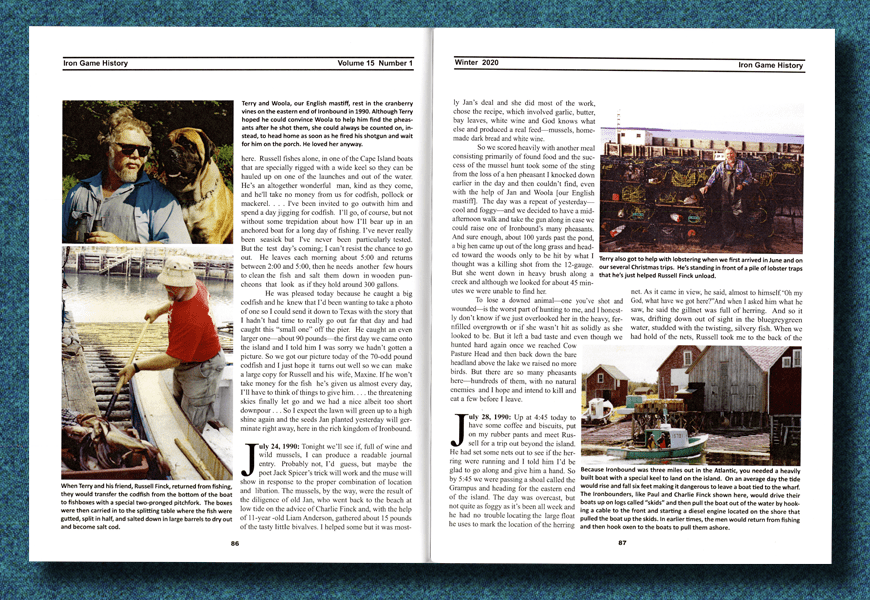 Now that it is out, however, I have to say that I'm proud of it; and also proud of the way it has been received. Since the special issue was mailed in April, I've been deeply touched by the phone calls, letters and personal notes sent to me, and by things posted on the web. Clarence Bass was even kind enough to write a piece about the special issue which can be seen on his website here: https://www.cbass.com/terrytoddcollectanea.htm.
Subscribers to Iron Game History got the special issue as part of their regular subscription, but we printed some extra copies in case others might like to buy one.
Because of the color photography, the large number of pages, and the cost to ship the book—which weighs nearly two pounds—we are selling the special issue for $25.00.
To buy a copy, send a $25.00 check or money order to Kim Beckwith at: 403 DeLoss Dodds Way, NEZ 5.700 / The University of Texas at Austin, D3600 / Austin, TX 78712-1418 with your full return mail address. Please place the words "Special Issue" in the memo line on the check.
If you wish to pay by PayPal, please email Jan Todd at jan@starkcenter.org and I will send you instructions.
Thanks to all who helped me with this project and I close–as Terry would remind us if he could–"Don't Weaken."