Please Watch for Updates on Reopening.
Some of the most beautiful photos ever taken show a totally still body of water in which the scenery on land is replicated in crystalline perfection in its mirrored surface. The photo might show a pond in New England reflecting the fall leaves, a lake out west reflecting the Rockies, or even a skyline reflected in the ocean on a still day at the beach. Architects design special pools to create such double beauty like the one that runs from the Lincoln Memorial to the Washington Monument in our nation's capital, and the gorgeous pool that mirrors the Taj Mahal in India.
But this photo of The Stark Center's Hercules reflected in water in our elevator lobby is not beautiful to me. Nor is the one next to it showing the reflection of the Sandow painting and our Wall of Icons in water standing on the floor of our lobby. These two images were taken this past Wednesday night when my good friend, Arthur Johnson, the Executive Senior Associate Athletic Director for Administration and  Operations for UT Athletics, called to tell me he'd been called to check on broken pipes in the North End Zone Building (where the Stark Center is also located) and that when he stepped out of the elevator on our floor, he'd stepped into water.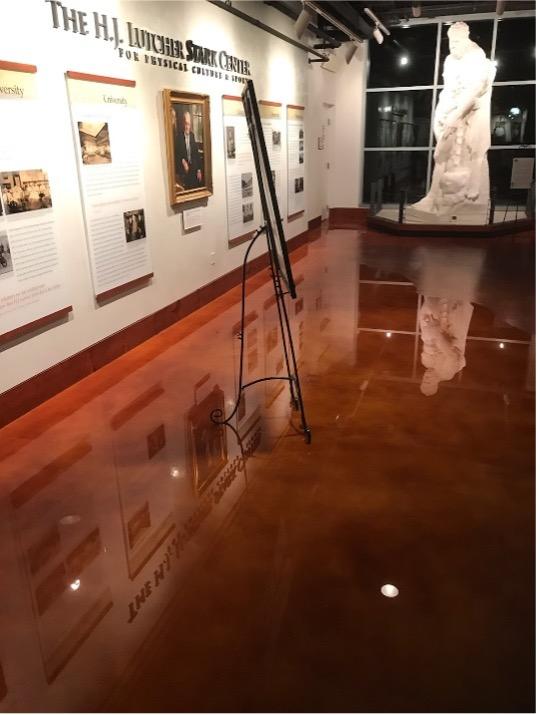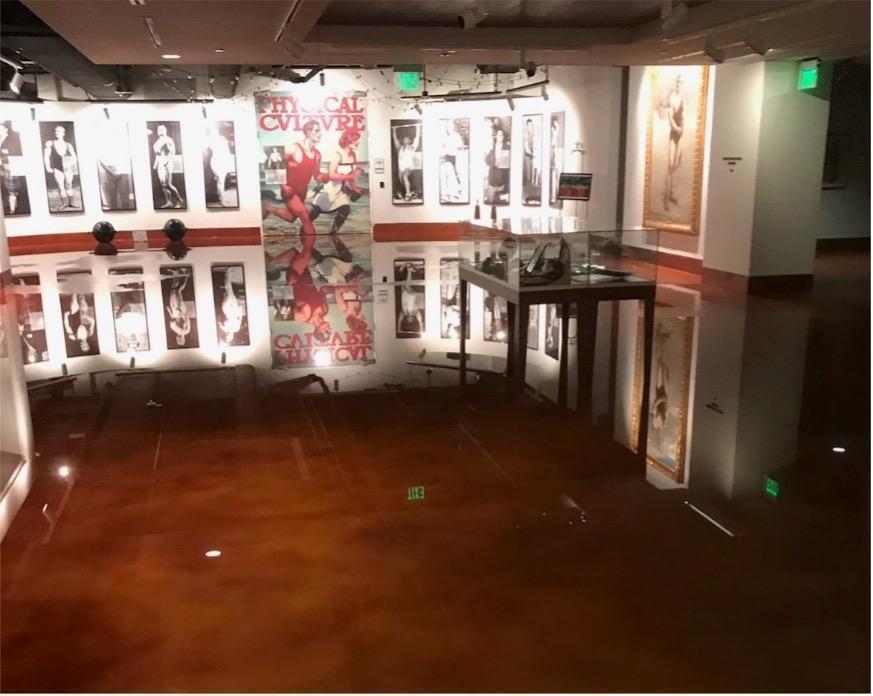 Left: In the elevator lobby, the water stopped just short of reaching Hercules.
Right: Water covered all the floor of the lobby and also went into the art gallery entrance shown on the right.
Thankfully, Arthur called in a team of experts to begin working on water removal that evening, and his Athletics crew did even more work on our behalf the next day. Because of the dangerous road conditions caused by the winter storm—we got more snow and sleet on Thursday—I wasn't able to get to the Center the next day, but Cindy Slater, the Stark Center's Associate Director (and guardian angel) who lives closer to campus, reported on Thursday evening that water had spread into about half our exhibition galleries, the main lobby, our welcome desk, the art gallery, and even into the reading room where it got as far as our first oriental rug.
Left: These shots were all taken on Friday morning when we still had water standing in many places in the Stark Center. The left shot is in the "strongman/strongwoman" gallery. The cart is catching the leak.
Middle: The golf gallery was virtually filled with water as the reflected image demonstrates. Right: Water in the main hallway of the gallery area.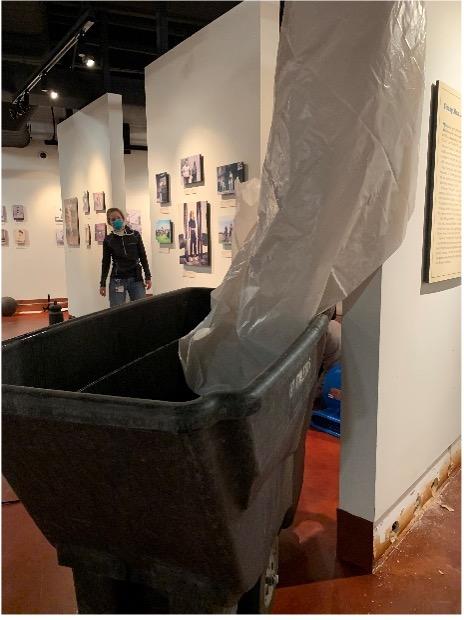 On Friday morning, Cindy; Kyle Martin, our museum curator; and I agreed to meet at the Center as the roads had improved somewhat and with a four-wheel drive, I figured I could make it into Austin. Arthur met us at the Center with a crew from Blackmon Mooring, an emergency response company, and for a while, we all worked removing the remaining water on the floors and looking for other signs of water damage. The main leak that caused all this was still dripping on Friday morning in the entrance to one of the galleries, and we worried there could be other leaks we hadn't found yet.
Above: To keep the water from ruining the wall closest to it, we rigged up this plastic drape to direct the falling water into the cart. The woman in the background is Andrea McNair, the Associate Director of UT's Environmental Health and Safety Office. Andrea was enormously helpful in getting us the assistance we needed on Friday and helping us problem solve.
We also worried that water might have gotten into the archives in the back and that, sadly, turned out to be the case. We discovered water behind both sets of double-doors into the archives area and also under our compact shelving system on the north wall. The electric shelves run on rails that are embedded in plywood.  While the top of the plywood looked dry, we could see that the bottom layer appeared wet. This was a cause of great alarm as museums and archives must be kept within a certain humidity range or mold begins to develop. And, we also worried that the plywood could warp which would impact the shelves' ability to move on the tracks.   
Water migrated through the walls to get under the plywood supporting the compact shelving system.
However, we were lucky to have Andrea McNair, the Associate Director of UT's Environmental Health and Safety Office, come over to assist us on Friday, and before we knew it, she had called UT's Carpentry Shop and a crew arrived and began taking up sections of plywood decking so we could see what was underneath. Sadly, it was wet and so we then worked on a strategy for how to try and dry it out without removing the mechanical shelves.
With advice from Andrea and the carpenters, we removed the ends of the platforms on the archives side to facilitate airflow and also took out random panels of plywood. On the gallery side of the wall, we removed the baseboards, took out wet insulation and drilled holes in the sheetrock so that we could blow air under the shelves. We then set out about 60 fans in strategic places throughout the Center to blow air into our trouble spots. Blackmon Mooring also brought in humidifiers to begin pulling moisture out of the air. We then went home and crossed our fingers.
The past week has presented all of us who live in Central Texas with incredible challenges. Temperatures fell to historic lows, many of us lost power, and many discovered that our homes and buildings were simply not designed to deal with temperatures that stayed well below freezing for more than a week.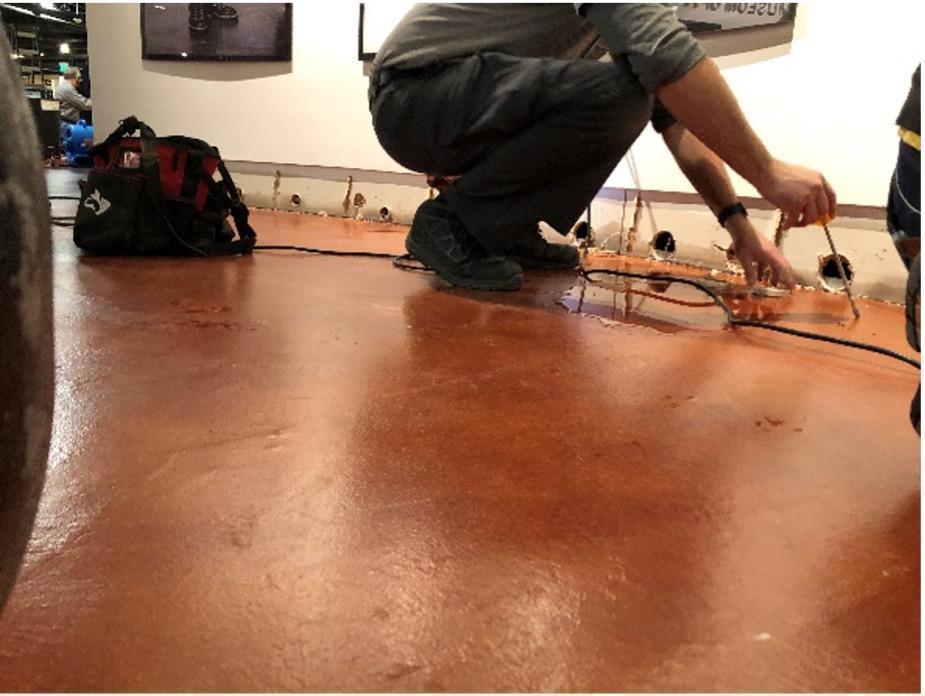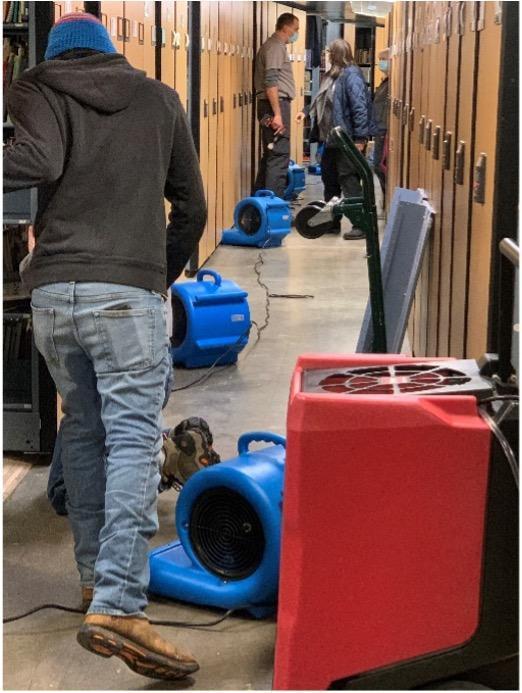 Left: Drilling holes in the lobby after removing baseboards.
Right: The carpentry team, shown here in the back working on our compact shelving, were amazingly skillful and helpful
In a normal Austin winter, it's rare to have even one day when the temperature does not rise above freezing during the daylight hours, but that wasn't the case this past week as Uri wreaked incredible damage on this city and the entire state.
The University announced last night that it will stay closed until Wednesday (February 24, 2021) as leaks and other problems continue to be discovered in buildings on campus—and the city's water problems have yet to be resolved. While I wish I could also announce a reopening date for the Stark Center, it will be awhile before we know when that will be. Today, in fact, I got a call about another leak that had developed in the stadium. I'm headed in tomorrow morning to see if it will create new problems for us. For now, please keep watching our website and Facebook page for news and announcements. While some of our staff will be working from home, it will be much more difficult for Cindy to assist with requests for information until we get things back in order. We thank you for your patience during this time.
In closing, I wanted to say a special word of thanks to Cindy Slater, whose devotion to the Stark Center and its patrons is unparalleled.  Cindy takes time out of her personal life, again and again, to make sure the Stark Center is safe and her endless patience and kindness are a true boon to our patrons and to me.  I also want to thank Kyle Martin for risking his life on icy roads to get to the Stark yesterday to help us, and then, after working all day, to place himself at even greater risk by letting me drive him home over roads that remained icy. He's a brave man.  On a more serious note, I also thank him for being so unfailingly quick to volunteer whenever anything is needed for the Stark Center and then to work hard to get things done. And, I'd like to thank our webmaster, Christy Toms, who is unfailingly willing to help whenever needed, and just sent this to me to proof when it is well after 11 PM on Saturday night!   She's been a great addition to our team and has transformed our digital presence.
I also wanted to say thanks again to Arthur Johnson and the Athletics staff who helped us, and to  Andrea McNair, Krista from Blackmon Mooring, the entire UT carpentry crew who worked to get us on the path to recovery, and also to my colleagues Patty Coffman and John Bartholomew from the Department of Kinesiology and Health Education for their counsel on how to deal with this new episode in the history of the Stark Center. 
I've thought a lot about Terry's motto in the last week, which seems especially appropriate tonight. Terry would tell us, "Don't Weaken." We won't, and the Stark Center will be back in operation soon.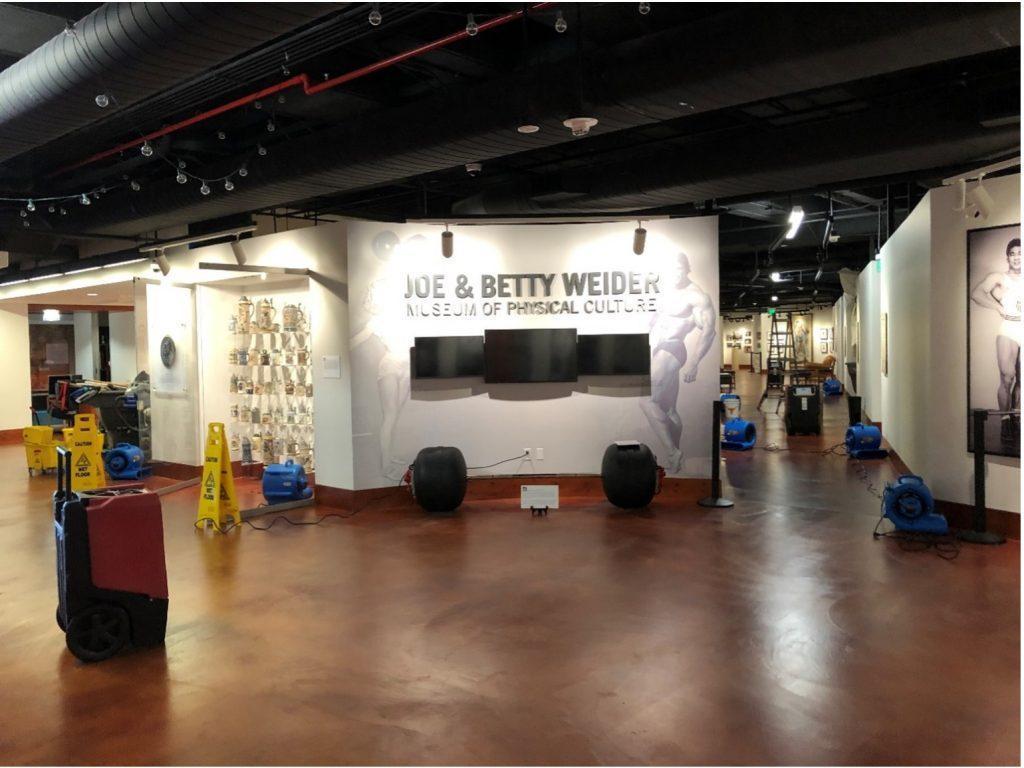 Here's how the Center looked when we stopped work on Friday, February 19th, with fans running, humidifiers hopefully working, but the water leak still dripping into a big tub.