As many of you know, The Stark Center hosted a virtual conference on January 15, 2021, called Physical Cultures of the Body. Twenty-one scholars representing thirteen different countries presented papers on the symbolic and cultural importance of the healthy and active body with reference to issues of race, gender, injury, strength, performance, eugenics, and much more. Over one hundred people from around the globe registered for the conference and attended. It was a great success. So successful, in fact, that we have launched a new page on our web site devoted to academic conferences and symposiums.
In the 'Research' menu of our main web header, under the category 'Special Focus,' visitors can now find 'Conferences' which will take them to the new page. Currently, the page is solely focused on the Physical Cultures of the Body conference. The page includes details on the conference and participants, including a link to the PDF of the conference program and information about the two new awards established for the conference, the David P. Webster Graduate Student Essay Award and the Terry Todd Award for Best Paper by a Working Scholar. These awards were named in honor of Terry Todd and David P. Webster, O.B.E. in recognition of their contributions as pioneering physical culture historians.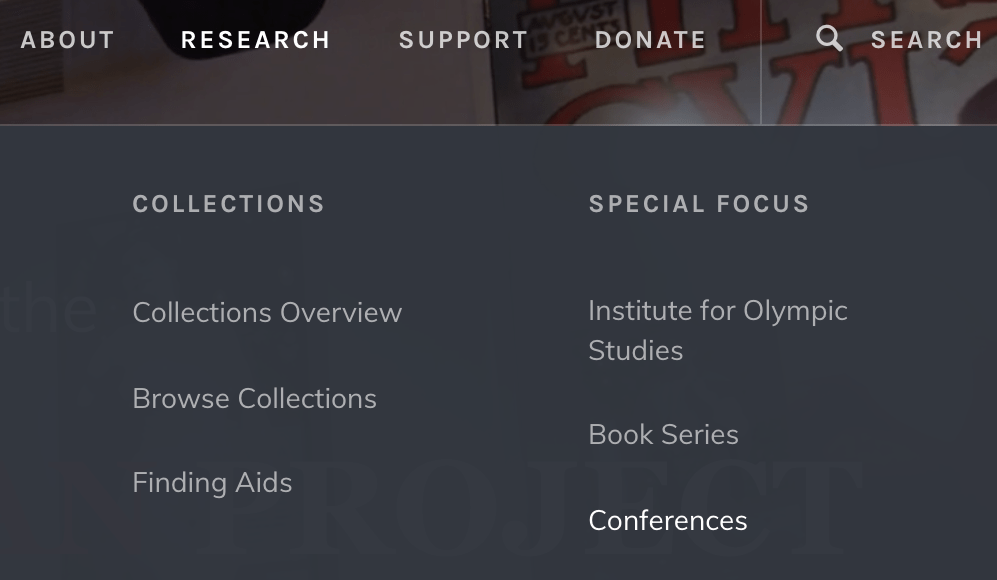 Perhaps the most valuable part of this new web page is that it features video recordings of the paper presentations for each section of the conference. Of course, we have only published recordings of presentations by authors who gave permissions to do so. Now, researchers and academics who were unable to attend the conference or those who were interested in a particular paper subject will now have access to watch or revisit any given presentation. We hope that by making these recordings available, we not only expand the reach and brevity of the academic conference, but also foster new research and connections in the study of physical culture and sport history.
In the future, The Stark Center plans to host the Physical Cultures of the Body Conference annually and this new page will serve as an archive for those future conferences and the recordings of presentations and other details. We also intend to use the page to provide information about future conferences and links to their registration pages. In fact, The Stark Center, along with The University of Texas Sport Management Program and Jim Rooney of Rooney Consulting and the Pittsburgh Steelers will be hosting a virtual symposium in mid-April of 2021, called Playing the Long Game. Click here for more information on that conference and to register for it.