Thomas Sean Connery's breakthrough as an actor came in 1962 when he was cast in the role of James Bond, Agent 007 of the British Secret Intelligence Service, a fictional character adapted for the screen from Ian Fleming's spy novels. Connery portrayed Bond in seven films, all of which were immensely successful. The worldwide popularity of James Bond movies elevated Connery, a Scotsman, to an iconic status as the Scotsman. A rugged type of handsome, Connery radiated masculinity and spoke with a deep and poignant brogue. He starred in movies for the better part of four decades. A performance as Chicago police officer Jim Malone in Brian DePalma's 1987 film, The Untouchables, earned Connery the Academy Award for best supporting actor. In 1999, he received a Kennedy Center Honor for lifetime achievement. The next year, he was knighted by Queen Elizabeth II. This past Saturday, October 31, Sean Connery passed away, peacefully, in his cliff-side home on the island of New Providence in the Bahamas. Despite being an international icon, it's not widely known that Connery was an imposing athlete and an avid physical culturist, a role he played his entire life.
Sean Connery was born to a poor, working-class family. He dropped out of school at thirteen so that he could take on full time employment. His first job was as a milkman for a local co-op. By this time, Connery had reached his full adult height, six-feet two-inches, which earned him the nickname, "Big Tam." At sixteen, he joined the Royal Navy but was discharged three years later because of a duodenal ulcer. It was during his time with the Royal Navy that an eighteen-year-old Connery began bodybuilding. Freshly discharged with a tall and muscular physique, Connery worked as a lifeguard at the Portobello Open Air Pool and as an artist's model for the Edinburgh College of Art. Former Mr. Scotland, Archie Brennan, suggested Connery take a job as a coffin polisher, which he did. In 1953, Connery's glistening body appears on the last page of the March 5 issue of Health & Strength magazine (seen above). He was confident enough to compete in the Mr. Universe pageant that same year.
There are contradicting accounts as to what year Connery competed in the Mr. Universe pageant, which category he competed in, and whether or not he placed in competition. Connery's own website claims he competed in the 1950 Mr. Universe pageant and placed third; however, after searching through the Stark Center's collection of Health & Strength, I found a page in the August 6, 1953 issue that lists the results for that year's Mr. Universe competition. Evidently, "Tom Connery (Scotland)" competed in the Amateur Class 1 division of the 1953 Mr. Universe pageant, but failed to place in the top six. But there is no need to weep for Connery, because at six-feet two-inches tall, he stood out from the competition (and still does in photos from the contest) and was tipped off to auditions for a theatrical production of South Pacific. He landed a role in the chorus and began his acting career.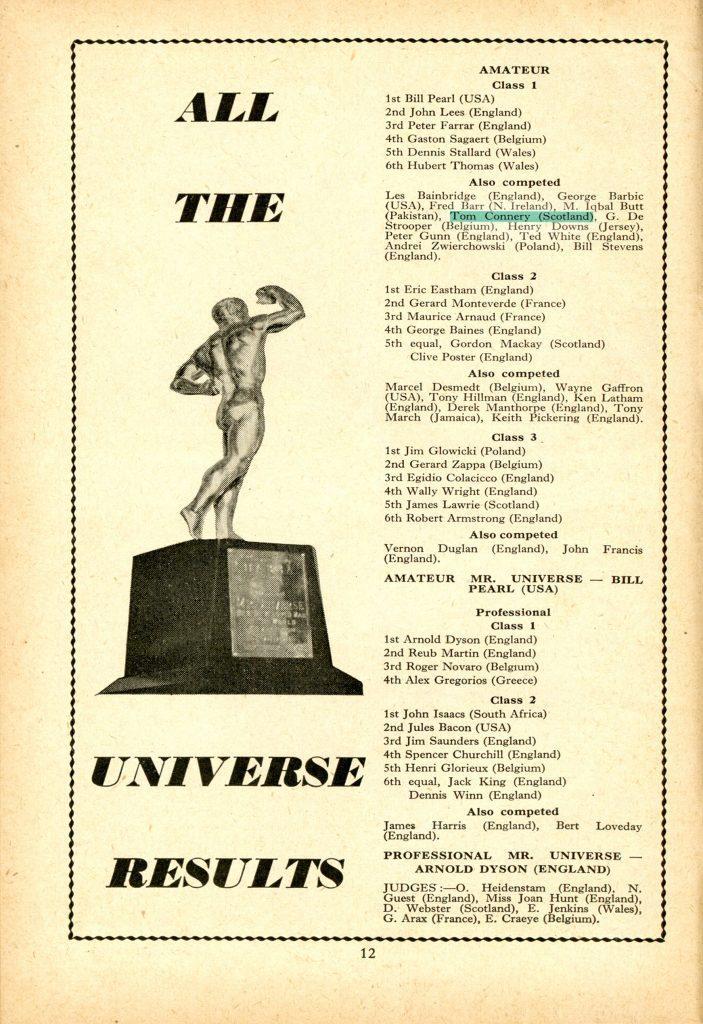 Along with bodybuilding, Connery was a skilled footballer (soccer, here in the U.S.). He played for Scottish football club, Bonnyrigg Rose, during the early fifties. While touring with South Pacific, Connery played in a football match that happened to be seen by a scout for Matt Busby, then manager of the famous Manchester United Football Club. Supposedly, Connery's physicality was so impressive that he was offered a trial at Old Trafford. Connery passed on the offer under the assumption that he'd have more longevity with an acting career. Clearly, he was right.
A long acting career provided Connery with his first opportunity to really learn the sport of golf. In a scene for the film Goldfinger, Connery needed to realistically portray James Bond as a worthy opponent on the links. It didn't take many lessons before Connery became hooked on the sport. After a few years of development, he was good enough to compete in Pro-Am style tournaments and maintained the hobby for most of his life. In his autobiography, Being a Scot, Connery wrote, "Over the years golf has taught me much, and its implicit codes of conduct have provided me with the nearest I have ever come to religion." It's also worth noting that Connery had a similar enjoyment of playing tennis and regularly attended the U.S. Open. In 2017, during one of Roger Federer's early round matches, Connery was shown on the stadium screen, accompanied with the James Bond theme music. Connery was especially a fan of Andy Murray, three-time Grand Slam tournament winner and fellow Scotsman.
Though he never made it to a professional level, bodybuilding presented Sean Connery with a path to fame and fortune as it allowed him to build up the muscle and the confidence to step onto a stage. Connery's lifelong passion for physical culture and sport illustrates just how important they are to health and happiness. Sean Connery lived to be ninety years old and he seemed to be fit for all ninety of those years. Consider only the fact that in 1989, at fifty-nine years old, Sean Connery was named People magazine's "sexiest man alive," the oldest man ever chosen for that designation. I don't think I'll skip my work out today.