After last year's cancellation due to the COVID-19 pandemic, the Clyde Littlefield Texas Relays are back! This year's meet is slightly different than usual. It will not include high school teams or individual athletes and it will take place over three days instead of four. The Clyde Littelfield Texas Relays is one of the nation's premier track & field events. Top-level athletes, their coaches, and track & field fans from all over the Southwest travel to the University of Texas every spring to compete. Last year's cancellation was the first since 1935, so in celebration of the meet's return — the 93rd iteration of the Texas Relays — I thought I'd provide a little history on Clyde Littlefield, the athlete turned coach who cofounded the Texas Relays and became their namesake.
Born in Eldred, Pennsylvania, in 1892, Clyde Littlefield moved to Texas in 1904 when his father was drawn south by the Spindle Top oil boom in East Texas. Clyde attended Peacock Military Academy in San Antonio during 1909‐1911 and then finished his high school education at Marshall Training School in San Antonio, where he played four sports and became state champion in the hurdles.
Littlefield entered the University of Texas in the fall of 1912, and over the next four years earned 12 letters in three sports—football, basketball, and track‐and‐field. His remarkable athletic talents played a major role in what many consider to be perhaps the greatest eras in Texas sport. A two‐time all‐Southwest Conference selection in football, Littlefield played a variety of positions for the Longhorns, including quarterback, and is credited as having helped popularize the forward pass in college football. He was also one of the leaders of the 1914 undefeated football team that outscored their opponents 358‐21.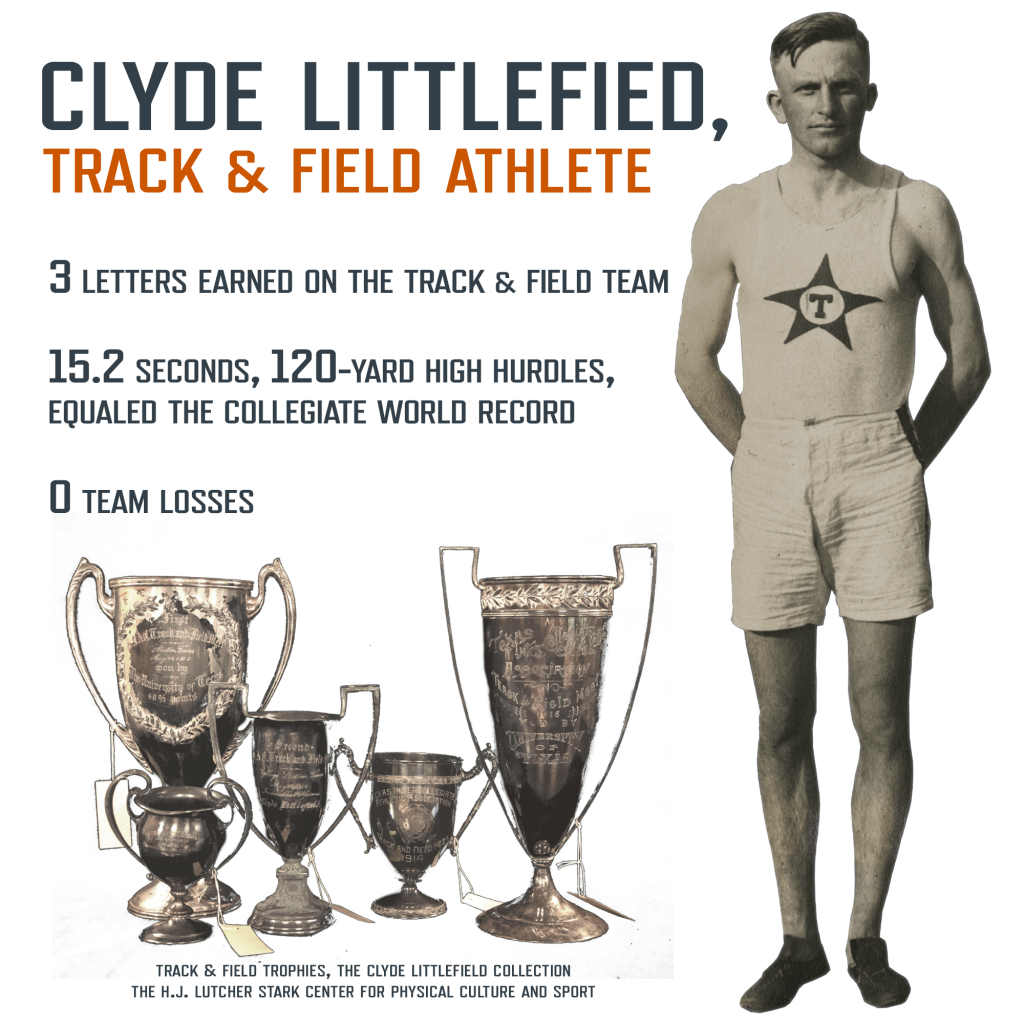 While an undergraduate, Littlefield played on three unbeaten basketball teams, was high point man in basketball for two of those years, and earned All‐American honors. In track, he never ran on a losing team, and his specialty was hurdling, in which he lost only one race and equaled the collegiate world record (15.2 seconds) in the 120‐yard high hurdles. He also won two games for the Longhorn baseball team as a pitcher and would undoubtedly have lettered in baseball had he not chosen track as his spring sport.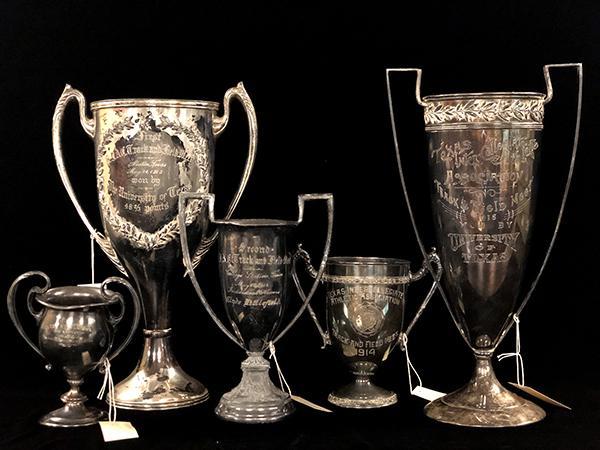 Following his graduation from UT, Littlefield served in World War I and was then hired by to coach football, basketball, and track in Greenville, Texas. His natural leadership and knowledge of sport made him an exceptional coach, and during his three years in Greenville, he won the state championships in track and field, and lost only one football game.
In 1920, Athletic Director Theo Bellmont hired him to return to UT as head track coach and freshman football and basketball coach. He also worked as an instructor in the Men's Physical Training Program, where he taught academic and physical training classes. Littlefield's joint appointment as coach and faculty member was common in this era; nearly all of UT's athletic coaches also held academic appointments before the 1960s.
In 1927, Littlefield was moved to head football coach, and subsequently won two SWC championships before stepping down in 1933 to focus solely on track and field. As the Longhorns' track coach, Littlefield compiled an incredible record: 25 Southwest Conference team titles; 14‐second place finishes in the conference; 12 national collegiate individual champions; 3 Olympians; and his 2 relay teams that set world records.
In 1925, he co‐founded the Texas Relays with Theo Bellmont, and developed it into the premier track meet in the nation. Thousands of high school, collegiate, and national‐level athletes have been inspired by the idea of running in the Texas Relays, which Littlefield directed for 32 years. The University officially named it the Clyde Littlefield Texas Relays in his honor in 1963.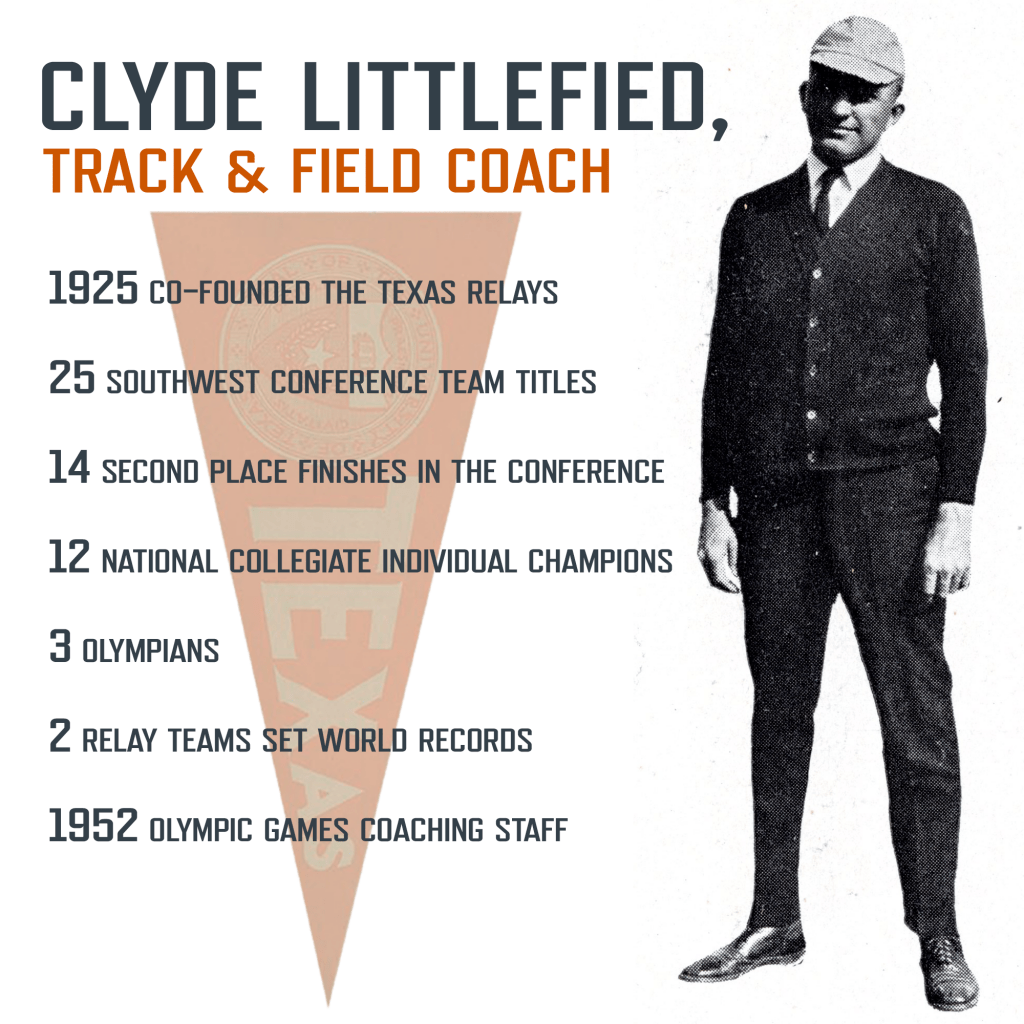 Littlefield was a member of the coaching staff for the 1952 Olympic Games, served on the Rules Committee for USA Track and Field for many years, and was also president of the NCAA Track Coaches Association. He has been named to the Longhorn Hall of Honor, the Helms Foundation Hall of Fame, the Texas Sports Hall of Fame, and the USA Track and Field Hall of Honor. Governor John Connelly even declared "Clyde Littlefield Day" in the State of Texas on April 2, 1963, to honor Littlefield's many contributions to U.T. and the greater world of sport outside the 40 Acres. He died May 20, 1981 at the age of 88.
Gifts from Clyde Littlefield's son, Clyde Raab Littlefield have been used to create two new endowments: The Clyde Rabb Littlefield Endowed Excellence Fund for the H.J. Lutcher Stark Center and The Coach Clyde Littlefield Endowed Excellence Fund for the H.J. Lutcher Stark Center. This gift also established The Clyde Rabb Littlefield Lecture Series and our archival storage areas are now named in his honor. To learn more about Clyde Raab Littlefield, click here. This year's Clyde Rabb Littlefield Memorial Lecture will be a virtual fireside chat with Jim Rooney and Paul Tagliabue as part of the Playing the Long Game Conference on Sport Management. To learn more about that or to register for the conference, click here.
(Editorial Note: Clyde Littlefield's biography is edited from text originally written by Jan Todd for Clyde's induction to the UT KHED Hall of Honor).