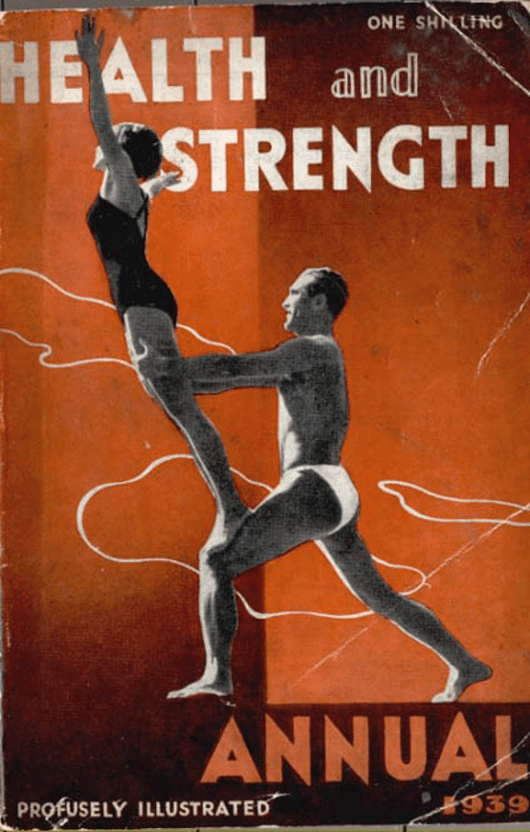 One of my favourite treats at the end of the year was the publication of sporting annuals. Based in Ireland, I would eagerly await the sale of soccer, rugby, boxing and wrestling annuals more so than my Christmas presents. Annuals offered an opportunity to reflect on the successes, and failures of the previous year. Much like these blog posts, they represented an opportunity to pause and reflect on some of the lesser known or understudied aspects of the sporting calendar. By now, my fondness for Health and Strength magazine is rather obvious. What continually draws me to this magazine is how wide-reaching it was. The magazine had its own fan group – called the Health and Strength League, helped oversee the running of the British Amateur Weightlifting Association (BAWLA) and, produced its own annual periodical.
The above pictured 1939 annual, kept at the Stark Center, gives an overview of all things physical culture in Britain and her Empire. Published just as Europe was on the brink of war, the annual expressed both a satisfaction of the weightlifting and athletic events conducted over the past twelve months and an optimism regarding the future. War ultimately delayed many of the annual's aspirations when it came to the organization of bodybuilding and weightlifting but the annual's premonition that physical culture's popularity would continue to grow proved to be astute.
Aside from reporting on past events, and making predictions for the future, the annual gave extensive lists of all Health and Strength affiliated gymnasiums from Britain, readers' articles, in depth articles on new exercise fads and comments on healthy eating. For historians, such annuals give a real indication of the popularity of physical culture – we have lists of events, gymnasiums, and reflections on the pursuit.
That the Stark has years upon years of annuals means that we can track, meticulously, the growth of physical culture in Great Britain and beyond. That, for me, shows the magic of Health and Strength.