It's a redundant anecdote, but I'll tell it again. One of the most common phrases spoken by visitors as they step off the elevators and into The Stark Center is, "Wow! I never knew this place existed." The utterance distinguishes between two types of Stark Center visitors: 1. The already indoctrinated, or folks who are avid strength/sport fans that already know of our work at the Stark and have ventured here like pilgrims to Mecca, and 2. The unfamiliar, or folks who are visiting based on the recommendation of a friend or colleague, including visitors who truly had no idea of our existence until they wandered up from the Texas Athletics Hall of Fame downstairs. For this second group, the unfamiliar visitor, we have redesigned our main lobby space with the intent of providing an opportunity to learn about our collections and mission. An orientation point, of sorts.
WHAT IS THE STARK CENTER?
This question is now presented in large type across the double doors that lead into our archives. Our philosophy behind the lobby redesign project was to answer this question and we've done so––though not in full––with eight acrylic panels featuring photos and text that detail various aspects of The Stark Center's collections: The Todd-McLean Library, Texas Athletics, Iron Game, Physical Culture, Olympic Games, Sport & Games, Nature Cures, and Visual Arts. The photographs printed on each panel are reproduced from originals found in our collections. The double doors feature original photographs, but also include photographs we took of Stark Center objects. We applied a color pop to each image from a Southwestern palette in order to draw visitors into our space from the elevators. One of the ideas in the choice of color and presentation of artifacts was an allusion to stained glass windows, presenting images and items in a similar manner as artifacts and relics.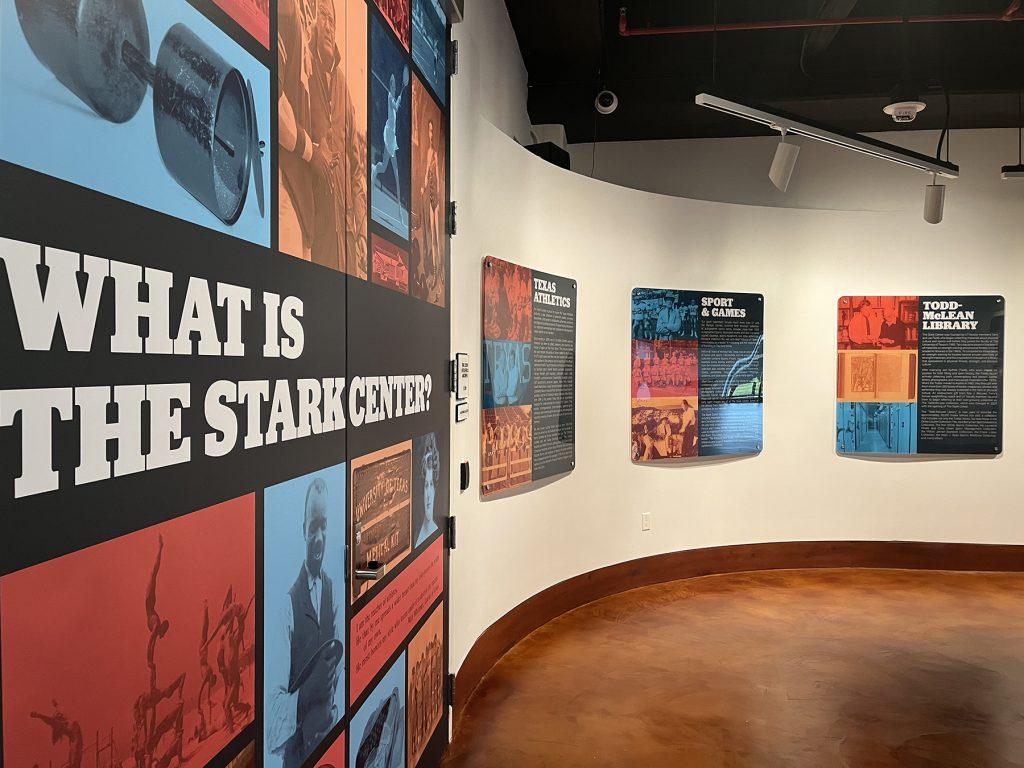 A TEAM EFFORT
To describe the amount of work that went into this project as enormous would be an understatement. Jan, our director, led the way, of course. But we held several all-staff meetings and worked as a team to complete the project. Working together, we compiled our list of eight features and then composed the text that would be printed on the panels. We looked through thousands of photographs to ensure we selected the ones that best met our intentions. I want to give a special shout out to Patty McCain who was an immense help to me in curating photographs. Patty and I also worked together pulling individual artifacts, staging them in a small studio space, and then photographing them from many different angles. Patty was enthusiastic and energetic, which helped us maintain our momentum as we sought the best items and images and perfected our methods of photographing them. When the final acrylic panels were delivered, Kim Beckwith and Patty worked with me to install them along our curved wall. The curve, of course, made mounting each panel a feat that required a minimum of six strong hands. I was really grateful for their help with the installation.
TIME TO VISIT
With our redesigned lobby, we continue to pursue opportunities to update existing exhibits as well as create new ones. As a staff, we're very excited about what's in store for our galleries in the coming years. Recently, we pulled the 1927 metal sign for the Penick tennis courts out of our archives and mounted it for display in our galleries. Likewise, we acquired a metal sign honoring Roger Clemens' collegiate baseball career at Texas thanks to Scott Norman––a great friend to The Stark Center––and we've mounted that for display just outside the Coaching Greatness exhibit. It's an exciting time to be at The Stark Center, so come by for a visit Monday through Friday, 9am-5pm. And, of course, stay tuned for more!