I've spent a lifetime around people who passionately pursue the perfect body. In my younger days, I was a dedicated gym rat and trained shoulder to shoulder with Olympians, top college athletes, and professional athletes, all who looked like they were carved out of stone like statues of Greek gods and goddesses. My motivation in those days was to build a machine capable of performing at top gear as a professional tennis player. Later, as a Head Women's Tennis Coach, it was to teach and supervise my college athletes how to train specifically for tennis. Nowadays, my goals are much simpler—to fight off the aging process and not become one of those who've fallen and can't get up. My appreciation for physical culture and admiration for those striving for excellence has never wavered.
My reverence of physical culture led me to apply for a position at the Stark Center. I was delighted to have the opportunity to work for the co-founder of the Stark Center for Physical Culture and Sports, Jan Todd. Not only is she a pioneer in the sport of powerlifting, she, like I, dedicated herself to being the VERY best at her sport and then became the guardian of its' history. Every day, I'm now surrounded by the trailblazers who were strongmen, strongwomen, bodybuilders, legendary coaches, and athletes. History jumps off every wall, from every case, and from the musclebound statues that watch over us and are so graceful in their presence.
But that's not the half of it.
Beyond the dark curtains and locked, alarmed and secure doors of the galleries lie the treasures of yesteryear, carefully housed in the archives. The shelves of the archives are lined with beautiful secrets in acid free paper and acid free boxes to preserve them for future generations and researchers. A plethora of ground-breaking archival material that includes historical books and magazines on a multitude of subjects concerning physical culture, competitive sport, health, human performance, and the body provide resources for researchers from not only our UT campus but from around the globe.
I've always been in love with the history of my sport, tennis, and I've always devoured history of any kind. I've been an avid fan of UT sports since I arrived on campus in 2005. I've gained many friends among the UT coaching ranks and have enjoyed supporting their teams over the years. Among the archives of strength and fitness journals, photographs, paintings, and books are historical artifacts of the University of Texas athletics.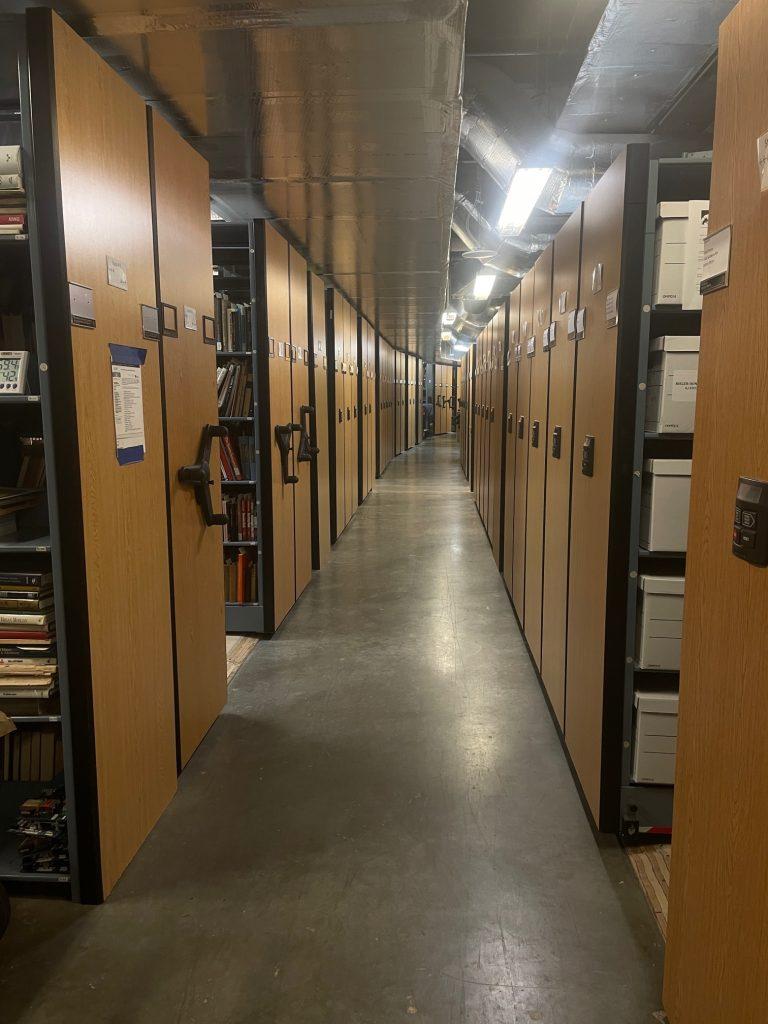 Imagine my excitement on my first day when I ventured into the archives of the Stark Center and saw the multitude of gems carefully stored in acid free boxes. I felt like I'd walked into the scene in Raiders of the Lost Ark when the Ark is being placed in a massive warehouse of top-secret artifacts where the shelves go on and on in never ending rows. On the left was Ben Crenshaw's golf bag and Tom Kite's trophies. Daryl K. Royal's scrapbooks, Mac Brown's bowl game footballs, Dave Snyder's collection of antique rackets, Augie Garrido's trophies, Track & Field Championship cups from 1912, the original sign from the tennis stadium that used to exist where the South Endzone is now, Wilmer Allison's personal tennis racket, and so, so many more riches of history whisper to have their stories told.
I am honored and humbled to be a part of this incredible research institution and to help preserve the stories of the University of Texas athletics giants.