Last week, much of Texas—and especially the Austin-area—was iced over after winter storm Mara made its way across the state. As a result, The University of Texas campus was closed Tuesday through Thursday as roads were covered in as much as a solid inch of ice; trees and other above-ground appendages wilted and snapped under the weight of their icy burdens, creating headaches and even severe danger for many members of our local community. I'm very thankful that The Stark Center made it through unscathed, but we have not always been so lucky.
The last time central Texas was struck with severe winter weather, in February of 2021, you may remember The Stark Center was flooded after the burst pipes in the open-air concession areas on the floor above us thawed and the water made its way through thick concrete to rain in our lobby and exhibit spaces. The primary victim of the flooded museum was our beautiful floor. Jan Todd wrote about the flooded lobby, the damages, and the cleanup in her blog It's A Good Life, which you can read here.
After a year of bureaucratic headaches, the damage caused to our floor reached the highest level of project management in the university's insurance claim against storm-related damages and we began working on an adequate replacement, which was not as easy a task as it might seem. Our floor is not only a one-of-a-kind piece due to the custom air-brush application technique, it's also a singular entity, void of any seams, which means to replace one section is to replace the entire floor. For that matter, the damages from that 2021 storm were so severe and widely distributed that a full replacement would have been justified even if it were not a singular piece.
The first iteration of our floor was installed by Vince Villegas from San Antonio, Texas. Unable to achieve the full aesthetic of his vision by staining the original concrete, Vince applied what's known as a "micro-topping," or an extremely thin white plaster layer, to the top of the concrete, essentially setting up a blank canvas with some nice texture. From there, Vince applied his own unique combination of stains to create a flowing burnt orange colorization and then applied a clear sealant.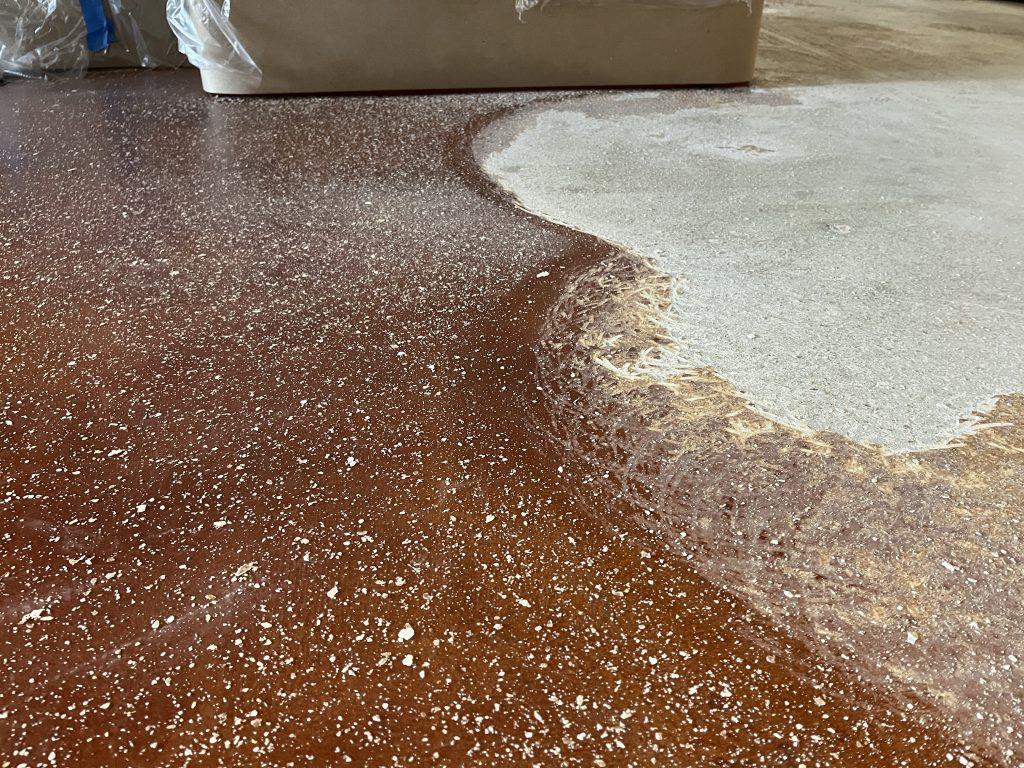 Vince, sadly, had become unreachable due to some medical issues. The original technique with which he applied his dyes also meant that it was not feasible to take a floor sample to get a color match and apply it universally, the way a painter might do when re-painting a wall. No one section of floor is an exact match to the other. It was time to start thinking of our floor as a work of art. So, a new team, led by Oswaldo Jose Guillen (he goes by "Jose") was hired to take the original floor back down to the concrete base and then rebuild.
In an act of serendipity, Jose was actually able to connect with Vince before he began staining the new micro-topping. While shopping for floor stains, Jose began to explain his project to a sales associate and when he mentioned The Stark Center, the associate recalled that he had been hired by Vince to help create our original floor. That person shared contact info between Vince and Jose and the two were able to connect. Vince was able to pass on the secret formula of stain colors needed to achieve the beautiful burnt orange effect. In talking with Jose, Vince described the act of stain application as a dance with the floor, which is a lovely, poetic thought. I wonder if Michelangelo ever thought of himself as dancing with the ceiling of the Sistine Chapel. To work so long on such a large structure must drive an artist to anthropomorphize their medium. Watching Jose apply stains to our new floor, it certainly looked as if he was dancing.
As I mentioned earlier, in order to begin this construction, Jose and his team had to deconstruct the damaged floor. This involved large, Zamboni-like grinders, amongst many other specialized tools, and lots of dust. So, in preparation, Cindy Slater and I de-installed the entirety of the museum. When Jose and his team finished the construction of our new floor, and the project managers and insurance representatives had all signed off on the project, we began the process of putting everything back. In doing so, Jan and I began to think about new life, new exhibits, and new stories that we might tell in our exhibit spaces.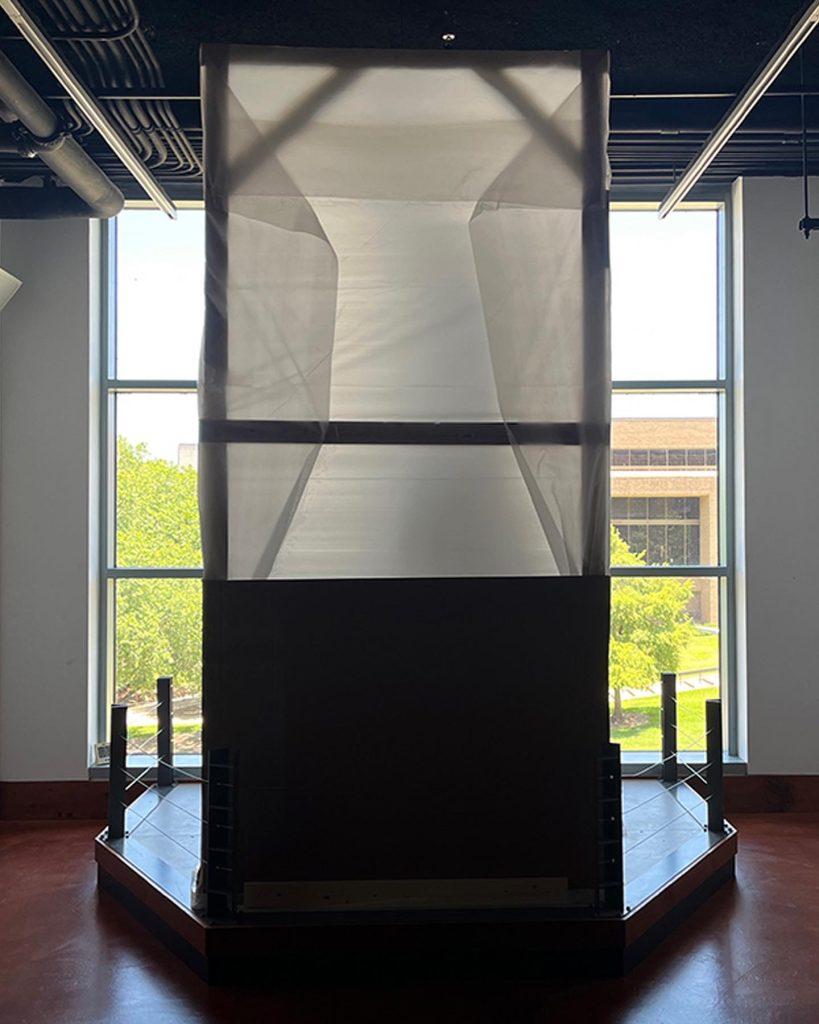 The first new exhibit came with rethinking the large curved wall in our main lobby. If you've ever been to The Stark Center, you'll remember that this wall featured large photo panels with text, honoring significant figures in the history of physical culture—from Sandow and Sandwina to Joe Weider and Jack Lalanne, John Davis and Tommy Kono to Boyd Epley and Kenneth Cooper. It was our "Wall of Honor" and it has since been migrated to the main artery leading visitors through our exhibits, becoming the "Hall of Honor," which also lends us the space for future inductees. In its place, I installed a new showcase of original artworks by Igor Galanin that we titled "Igor Galanin's Women of Strength and Skill." The paintings, as the title suggests, depict women in athletic and active poses. They also bring lush pops of color to our lobby, which brightens and refreshes the space. Read more about the exhibit here. For the most part, these pieces are on loan to us, so you'll want to be sure and visit soon.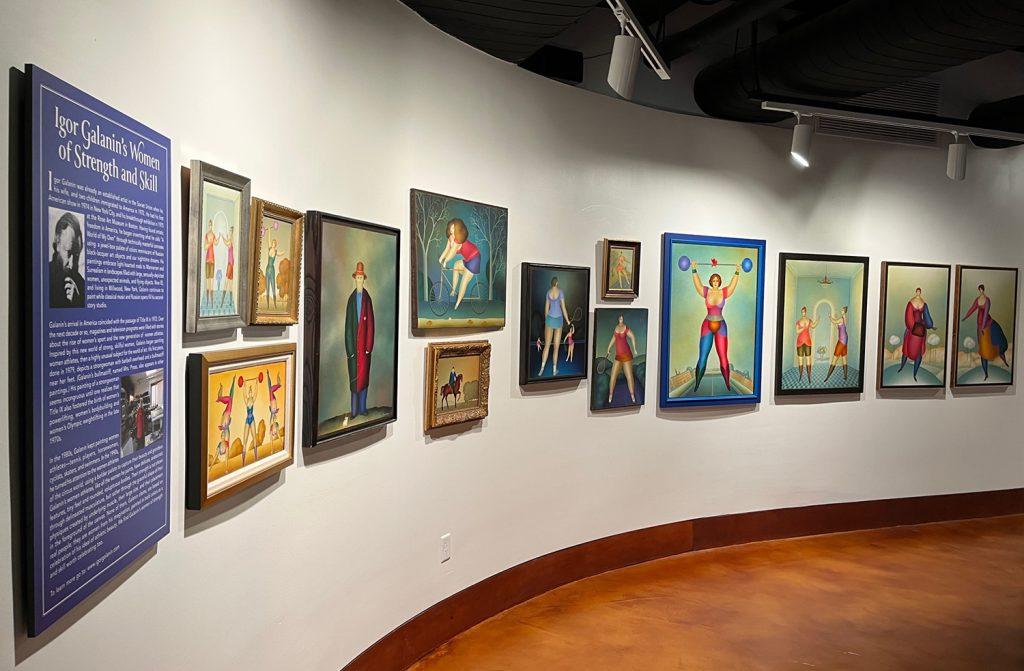 The second of our new exhibits arrived after Jim Lorimer's retirement from running the famed Arnold Sports Festival in Columbus, Ohio. Jim and business partner Arnold Schwarzenegger decided to pack up the contents of his office and ship them to The Stark Center for archival preservation and historical relevance. From this new collection, I've curated an exhibit that showcases the original bond between these two friends, as well as their great accomplishments as business partners in running an annual sports festival that draws more athletes than the Olympic games. We've appropriately titled the exhibit, "Arnold & Jim." Along with an array of wonderful posters and artworks, the exhibit features photos, clippings, and the original theater seats where Arnold and Jim sat and watched their favorite events at Franklin County Veterans Memorial in downtown Columbus. Read more about the exhibit here.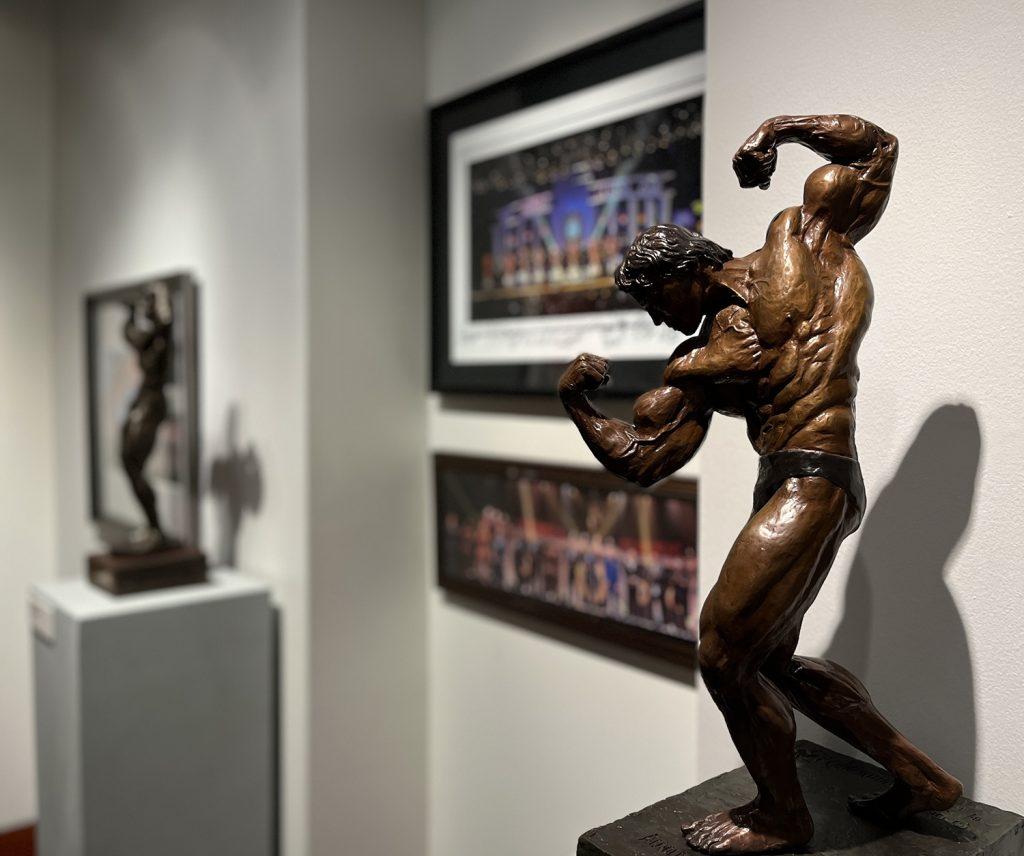 Lastly, Jan and I decided to put up a showcase of new lithographic posters that she had acquired for The Stark Center collections. As strongmen and strongwomen began appearing in Vaudeville and the circus, they used advanced lithographic techniques to publicize their acts. Now highly collectible, these early posters can be read as both a historical vision of what their act might have included and as works of art in their own right. Very few of these early posters have survived and one of The Stark Center's missions has been to collect and preserve as many as possible. There are some really great new posters in this exhibit and I encourage you to come and see them for yourself. You can read more about "Stark Art" here.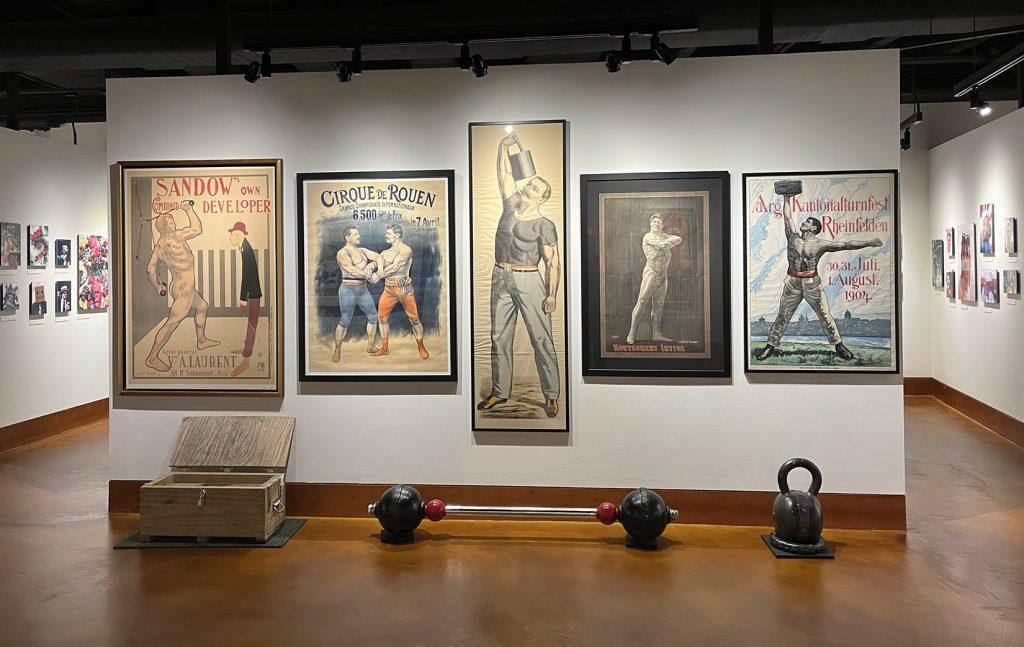 With the spring semester underway, a winter storm in our rear view, a new floor, and some exciting new exhibits, we are ready to reinvigorate The Stark Center with visitors. I hope you'll make plans to come visit us soon and see some of the great new stories and artifacts that we are glad to preserve and share. Please bring as many friends and as many questions as you can manage. I'll do my best to answer.