As many of you may remember, the winter storm in February 2021 caused an immense amount of damage here on The Forty Acres, our colloquial name for the University of Texas campus. The Stark Center, specifically, was a victim of flooding due to burst pipes on the floor above us in the North End Zone building. Jan Todd wrote about the water and the detriments to our beloved floor on her It's A Good Life blog, which you can read by clicking here.
Assessing the damage and determining an adequate solution to the issues has been a long and complicated path, but we're glad to have finalized a plan to fully renovate our floor. The process, which is now underway, will involve grinding down the existing stain and micro-topping back to the original concrete level and then applying a brand new topping, stain, and seal. This, of course, is a large undertaking and involves an amount of covering, protection, and construction that means The Stark Center will be closed for the summer. (The Stark Center staff will still be available during the closure for any questions or research you may have.  The Stark Center research room will be open by appointment only.  Contact us at 512-471-4890 or email us to set up an appointment or if you have any questions.)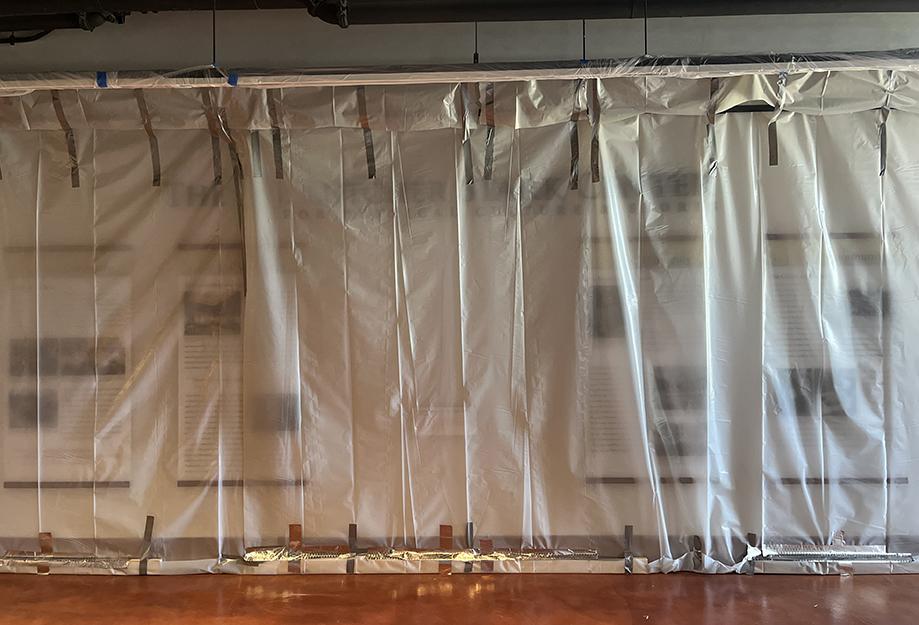 In preparing for the floor renovation project, we had to deinstall the entirety of our lobby and gallery spaces. Any original artwork or artifact and anything that is on the floor had to be removed and temporarily housed back in our archives for protection. Sadly, this meant that the wonderful sculpture exhibit by David Deming and Michael Deming (Degrees of Fitness / Sporting Bodies) needed to be deinstalled. So, our friend, David Deming drove down from Cleveland, Ohio with his pickup truck and brand new trailer to take back the wonderful little collection of statuary.
Fortunately for us, while in Austin to collect he and Michael's work, David informed us that Michael was donating four of the pieces used in the exhibit to The Stark Center. New to our collection are four wonderful sculptures of bodybuilders: Ronnie Coleman, Serge Nubret, Dorian Yates, and Arnold Schwarzenegger. Below are photos of each new piece. Many thanks to Michael Deming and his wonderful talents. These are truly remarkable works.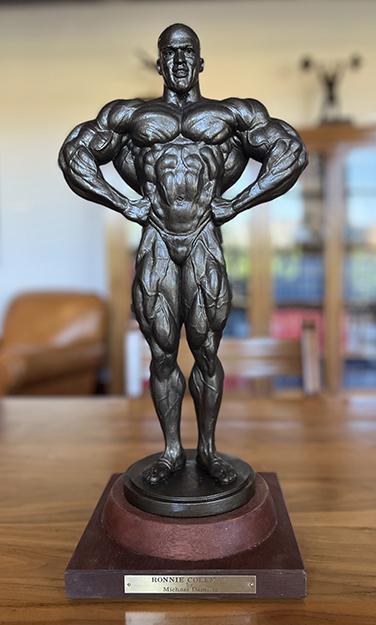 Another new look for The Stark Center while floor construction is completed is in our reading room, which Jan Todd admires as it now resembles a Victorian museum given that we've moved all large sculpture works (except for Hercules) and other oversized oil paintings into the reading room as a protective measure. Patrick Sheehy of Sheehy Fine Art Services did a tremendous job in helping us relocate the more difficult pieces, as well as constructing a temporary crate/protection around the Farnese Hercules since it is far too large, heavy, and delicate to be relocated out of harms way. Patrick and his crew worked smoothly and efficiently; we were truly impressed.