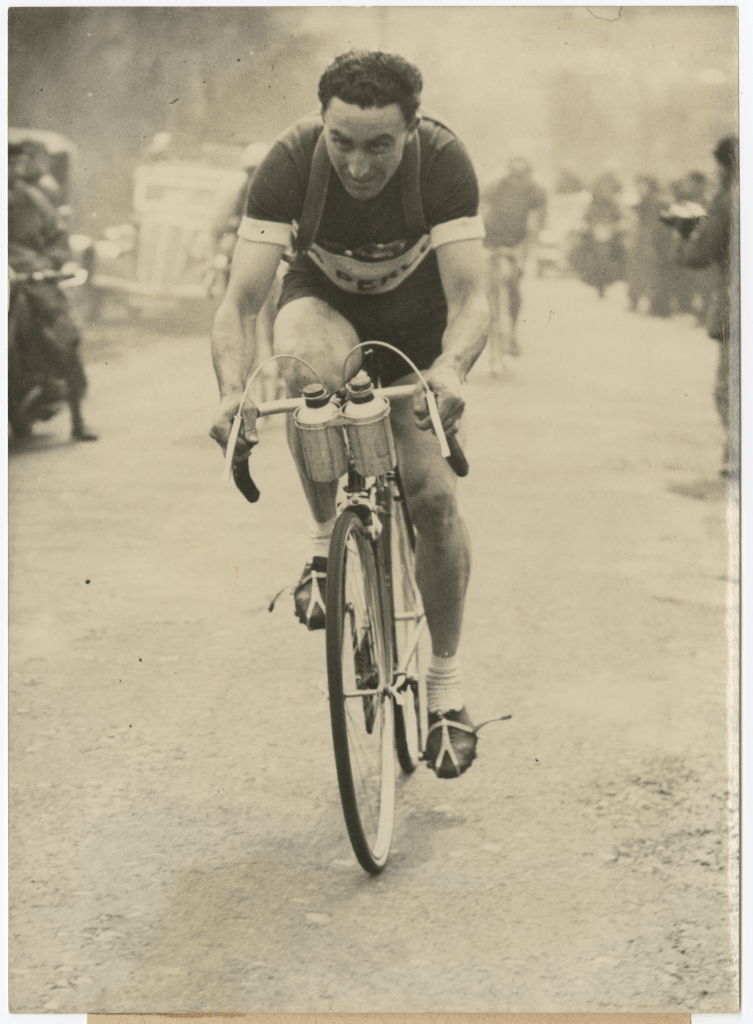 In any normal year, one of sports' greatest spectacles, the Tour de France, would have concluded about a month ago. This year's tour has unsurprisingly been rescheduled to begin August 29, but the event pictured in this photograph permanently ended its 85-year run in 2016. The Critérium National de la Route was for many years a de-facto French national championship of cycling, but was opened up to international competitors and renamed Critérium International in 1979. Over the years it was contested and won by some of the most illustrious names in cycling: Anquetil, Hinault, Indurain, Fignon, Voigt, Froome, and numerous others.
The rider pictured here, Émile Idée, was a stalwart French racer of the 1940s and five-time winner of the Critérium International, and turned 100 just over a month ago. Idée is pictured here at the 1947 Critérium National, breaking away from the pursuing peloton near Limours, France, 40 kilometers away from the finish line. Idée would go on to win this race, his fourth win in this race, and would also be crowned French national road race champion that year.
Aside from the bicycle's basic shape and chain drive, little in this photograph would be familiar to the modern cycling enthusiast. Wool jerseys, toe clips, and steel bicycle frames maintain a small niche of users even today, but the bar-mounted metal bidons (water bottles) and extra tire worn around the chest and arms have passed into cycling history. When this year's Tour de France kicks off on August 29, there will be brightly colored Lycra jerseys, carbon-fiber bikes, electronic shifting and disc brakes, among other technological advancements. But the look on Emil Idée's face as he goes all-out to put distance between himself and the shadowy figure looming over his shoulder is instantly recognizable to sports fans of any era.
This photograph is from the Ottley R. Coulter Sport Photography Collection – Box 26, Folder 1. Coulter was a strongman and acrobat in circuses and vaudeville, and one of physical culture's first historians; the Sport Photography Collection is just one small part of the thousands and thousands of clippings, photographs, books, and ephemera that comprise his unimaginably vast and deep accumulation of material documenting late 19th and 20th century sports and entertainment.