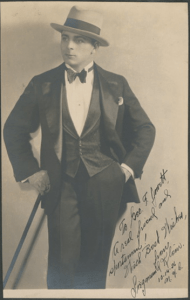 Sigmund Klein was one of the most fascinating, and indeed, successful physical culturists of the 1920s and 1930s. Operating a gym in New York, the same gym run by his father in law, Professor Atilla, Klein's unique position in the fitness industry made him the envy of many. Not only was he incredibly strong and athletic, but he was part of physical culture royalty.
Given the fact that he ran a gymnasium and was a weight trainer in his own right, many of the images we have of Sig tend to be him in workout clothes. This is what makes the above image so fascinating.
Found in the George Fiusdale Jowett Papers, specifically his Business Scrapbook, is the above, formal, Sig Klein image. I love this photograph because it depicts Siegmund Klein dressed to the nines with a top hat and cane, in the height of 1920s fashion.  The image is dedicated to George F. Jowett with an inscription that reads: To George F. Jowett, A Real Friend and sportsman, With Best Wishes, October 24, 1926.  Such items are so enlightening because they allow us to see how the physical culture pioneers, while competing, were still often friends and respected each other.