Darrell K Royal 2005 Championship Ring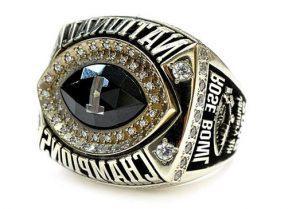 When Mack Brown was named head football coach at the University of Texas in 1998, he was immediately tasked with returning Longhorn football to a place of national prominence and a culture of winning. Wisely, he sought out the insights and expertise of Darrell Royal, a man who coached the Longhorns for twenty years, won three national championships, and never recorded a losing season. Coach Royal became a close confidant to Coach Brown and was a source of guidance and inspiration to the team. When the Longhorns won the BCS National Championship Game in the 2006 Rose Bowl, they presented him with this championship ring, showing just how much "The Coach" meant to them.
In 2012, Coach Royal's ring was auctioned at a benefit for the Darrell K Royal Research Fund for Alzheimer's Disease. At the event, Texas alumnus Sorush "Shawn" Abboud placed the winning bid. He and his wife, Christina Cole Abboud, brought the ring home to The Forty Acres when they presented it to Jan and Terry Todd at the Stark Center in 2017. Edith Royal had already placed a trove of photo albums and other memorabilia in the Stark Center's care, and at the end of his tenure, Coach Brown also donated many of his own personal items. This championship ring binds those two collections together and serves as an important reminder of how coaches educate and inspire as well as call plays.