Originally published by Kay Randall on http://www.utexas.edu
Top this boy-meets-girl story.
Boy and girl are with a group of graduate students and faculty members in a Georgia meadow on a lazy summer afternoon, lolling after a filling picnic and a few cold beers. Some of the guys are sitting on a stack of logs and the conversation turns to the Scottish Highland Games event of caber-tossing, or log-throwing.
Jan, called the "strongest woman in the world" by Sports Illustrated and many other news media, hoists Terry on her shoulders during her heyday as a champion powerlifter (from People magazine article). She was listed in the Guinness Book of World Records for more than 10 years.
The requisite bout of posturing and preening starts and eventually a few of the boys try their hand at tossing a log. Besides the required strength, there's a fine art to doing it correctly. First you stand the long, slender log on end, then you pick it up so that you're holding the bottom end in your palms and cradling the lower part of the log against your chest. You run forward to build momentum, gradually tilting the log outward, stopping suddenly and thrusting it upward so that it flips through the air, turning end over end and landing with the end that was in your palms facing away from you.
The largest of the boys has experience in the sport, but even after he demonstrates technique to the others, the handful of intrepid males who rise to the challenge fumble and botch their tosses until, red-faced, they retreat.
After watching the testosterone parade from a hill above the meadow, the girl, a freckled, blonde, blue-eyed philosophy student strolls purposefully down to the log and without ceremony tosses it end over end perfectly, with skill that would make any Highlander blush.
Large boy falls helplessly in love and girl realizes she doesn't know her own strength.
The boy was Dr. Terry Todd and the girl was Dr. Jan Todd, and log-tossing in the meadow was the beginning of their love affair with one another and with all things related to strength and fitness. Over the past 40 years, the two scholar-athletes have set scores of national and world records in powerlifting, taught thousands of students, written seven books and more than 700 articles about sport, exercise and body culture and, on the side, built the largest, most comprehensive physical culture collection in existence.
The Todd-McLean Physical Culture Collection, which is housed in Anna Hiss Gym at The University of Texas at Austin and presided over by co-directors Jan and Terry Todd, is as colorful and singular as the Todds themselves. It contains more than 150,000 books, photos, films, magazines, letters, training courses, videotapes, posters, paintings and artifacts. The collection vividly tells the history of competitive lifting, professional strongmen and strongwomen, sports nutrition, bodybuilding, naturopathy, conditioning for athletes, drug use in sports and alternative medicine.
Although a larger facility for the expanding collection is needed, its basement home next to the men's dressing room and down the hall from an indoor archery court matches the quirkiness of some of the rare items. Dimly lit by sun filtering through a row of frosted glass windows placed high on two of the walls, the crowded room feels like the right black velvet box for the diamond.
In the charming space where the primary collection lives, a research visit cannot help but become a treasure hunt. Inside are oddities and scholars' delights stacked and jammed in some spots to the ceiling and filling row after row of glass-fronted old oak cabinets.
There are vintage show announcement posters for "rough and ready" traveling acts featuring famous strongmen with names like "Stout Jackson." High atop a shelf sits the first dumbbell of its kind ever made for sale in the United States, sporting canisters on either end that can be unscrewed and filled with lead shot to accommodate the strong as well as the weak. Beneath the windows are Indian clubs and various twisted, broken and rolled metal items that were mangled by the remarkable strength of the hands of famous strongmen of the past and present. Tucked inconspicuously away are hundreds of 18th and 19th century books with beautiful leather covers and titles like "Strength, and How to Obtain It," "Father Kneipp's Water Cure," "Strongman Egyptologist," "The Iron Game," "Smoke Over America" and "Anabolic Steroids—What Kind and How Many."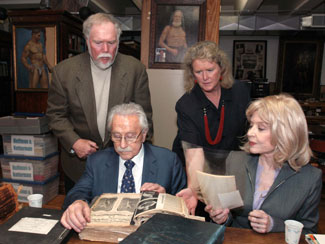 Publisher and fitness pioneer Joe Weider (seated), along with his wife Betty (also seated), view some of the collection's priceless scrapbooks with the Todds. Last year, Weider pledged $1 million to the collection, $400,000 of which has been given.
The collection also boasts the first illustrated book on sports medicine, massage and physical culture, Heironymus Mercurialis' "De Arte Gymnastica," a work written in 1569 and recently donated by Scottish sport historian, philanthropist and Highland Games authority David Webster, O.B.E. The archives contain a primitive wooden barbell that was handmade by Bob Peoples, a Tennessee farmer who held the record in the deadlift from the 1940s until Terry Todd broke it in the 1960s, and hold every issue of the first health journal, which started in 1830.
Also in the collection reside all issues of Iron Man Magazine, a "mom-n-pop" publication out of Nebraska that grew from a flyer produced in 1936 on a repaired mimeograph machine to one of the most influential fitness publications in America. Following the death of publisher Peary Rader, his widow and publishing partner Mabel Rader gave their business records, book and magazine collection, and enormous photo archive to the Todds.
In one corner, hanging over Jan Todd's desk is a large, richly colored oil painting in a heavy gold gilt frame. The portrait, done in 1887, is of Louis Attila, a legendary turn-of-the-century athlete and trailblazing fitness advocate who was the personal trainer for some of the members of Queen Victoria's court. The impressive row of medals Attila wears across his leopard-skin garb (skin courtesy of a leopard killed by the Prince of Wales) sits on a shelf to the left of the painting, and the collection also holds Attila's personal scrapbook.
Nearby is a small, beautiful painting of Sig Klein, given to the Todds by publishing mogul Joe Weider. Klein was Attila's son-in-law, and both Attila and Klein were models of physical perfection during their respective eras, doing much to dispel some of the unsavory sideshow aura that hovered around weight lifting. A dynamic fitness duo, Attila and Klein attracted wealthy and influential patrons to their famous gym in Times Square for almost 100 years, and they convinced many people that women as well as men could benefit from resistance exercise.
Illustration from "De Arte Gymnastica," one of the earliest, most significant books on physical culture and the oldest item in the collection. The edition, donated by Scottish strength historian David P. Webster, O.B.E., dates from 1577.
"One of the assets of this collection is that it feeds our own research and the research of many of our graduate students," says Jan. "Four of our doctoral students, for example, are using our collection as the basis of most of their dissertation research, and Terry is now at work on a book chapter with UT's Dr. John Hoberman on anabolic steroids in society, a subject Terry has studied for over 40 years. My own writing and research also flows directly out of these resources, and I've just finished a long chapter for a book for the Hastings Center for Ethics on the subject of drug testing."
Because of the Todds' celebrity status in fitness, bodybuilding and sports, many of the collection's rarest and most valuable items have been donated by close friends in the field. On a London social visit to the widow of legendary 19th and early 20th century weight-lifter and wrestler George Hackenschmidt, what began as reminiscences about old times ended in Mrs. Hackenschmidt donating all of her husband's scrapbooks and fitness-related items to the Todds.
"We're visiting with her, having the best talk and all of a sudden she says, 'Oh, I'm so glad you came—I've been wondering what in the world to do with George's scrapbooks,'" says Terry, who up until then was unaware of the scrapbooks. "I was absolutely stunned by this good fortune and I sat there thinking, 'Is this really happening?'
"The Hackenschmidt scrapbooks, manuscripts, photographs and unpublished autobiography comprise one of the top five holdings in our collection. Hackenschmidt, like a handful of figures in the history of physical culture and sport, was a sort of Renaissance man—fluent in six languages and author in his middle and later years of a series of very complex books on social philosophy. 'Hack' lived to be 89 and when he was 75, he could stand flat-footed and, with the explosive power that was his trademark, repeatedly jump up and over a rope stretched between the tops of two kitchen chairs. Most people that age can't hop up onto a curb with both feet."
At the 1984 Women's National Powerlifting Championships, Jan Todd set a world record in the deadlift of 463.5 pounds at a body weight of 163 pounds. She set world records in five different weight classes during her career.
When you visit the collection, one of the first things you see is a large black-and-white photo of a buff, almost-nude Hackenschmidt—also known as "The Russian Lion"—and more than a dozen early 20th century, Hackenschmidt-authored volumes on wrestling and philosophy sitting casually between two bronze bodybuilder bookends at the front of Terry's desk.
Similar stories abound of treasures making their way from famous athletes to the collection, many given out of respect for the Todds' deep commitment to the preservation of physical culture artifacts and admiration for their work as preeminent scholars.
"Terry and Jan are uniquely placed to know everyone who is anyone in this field," says Webster. "They are not just academics who have studied the culture of physique in depth and have an almost encyclopedic knowledge of its history—they actually participated, set world records, coached many champions and are famous for doing it. Many of the collectors out there—myself included—are grateful to them for keeping physical culture artifacts from being dispersed, for raising awareness of these items' integrity and value, and for publishing their excellent journal Iron Game History for the last 15 years."
Although the primary value of the collection is in its being a unique research resource and the largest and most comprehensive physical culture archive for scholars, its secondary value is sheer entertainment.
Terry Todd began his competitive lifting career as an undergraduate at The University of Texas at Austin. This photo of the Longhorn Weightlifting Team was taken when Todd (far left) was in his first year of graduate school. The other men from left to right are: Bill Petmecky, Tommy Suggs, Carlos "Gorilla" Avila, Doug Fairlee, Mel Bragg and Ben Nowotny.
The best way to experience the collection is to visit when the busy Todds are there and willing to share stories of their own exploits as well as the almost cinematic-in-scope histories of the characters who figure prominently in the archive.
Terry can tell you about what an anomaly he was at The University of Texas, a scholarship tennis player who lifted weights on the sly and quickly grew to weigh a muscular 240 pounds by the end of his sophomore year. He can also describe how he became America's first powerlifting champion and how his marriage to Jan led him into a career as a journalist on the staff of Sports Illustrated magazine. He can tell you about doing commentary for CBS, NBC, ESPN and National Public Radio and about his friendships with everyone from the late wrestler Andre the Giant to Arnold Schwarzenegger and Herschel Walker.
Jan can tell you what it was like to be the women's heavyweight powerlifting champion and how it felt to be named "strongest woman in the world" by Sports Illustrated and the Guinness World Book of Records. She can explain how she was able to lift more than 1,200 pounds in a partial deadlift and drive a large nail completely through a one-inch board with her hand. She can describe what it was like to be one of the first female lifters to push the limits of her strength, be courted by the media and become an icon for women who needed a role model to help them understand that physical strength was not only for men.
They both can tell you what it was like to be a team, with coach Terry helping a very young, but very gifted Jan realize her athletic potential.
With their shared love of physical culture, it's hardly a surprise that Terry and Jan became academic experts on the topic and began a world-renowned collection.
Terry Todd executes the first official 700 pound (actual weight 710) squat at the 1965 Junior National Powerlifting Championships.
"When I was playing tennis I read everything I could get my hands on about the sport," says Terry. "That's the way I've always been. When I became interested and involved in strength training as a freshman at UT, I devoured every magazine and book in Professor Roy McLean's large collection, and that reading lit a fire that still burns.
"My love for collecting grew when I was working on my dissertation and had the opportunity to use the books and magazines of Ottley Coulter, an ex-vaudeville strongman in Pennsylvania who had what was probably the most extensive collection of physical culture items in the United States at that time. Coulter shared my fascination with the history of the 'iron game,' and we became very close friends. Coulter not only let me use his personal collection while I was completing my dissertation but also told his family before he died in 1975 that they should allow me to purchase the collection, which ended up filling 387 large book cartons and weighing over 25,000 pounds."
In 1983, Terry joined the faculty at The University of Texas at Austin and the Todds started donating their materials to what would become the famous physical culture collection. Convinced of the value of the collection, Professor McLean decided to add his own physical culture items to the growing archive and established the $100,000 Roy J. McLean Fellowship in Sports History to support the collection.
Over the past 20 years the collection has quadrupled in size, outgrown each of its homes and now is in desperate need of more space as well as an endowment for a new facility and the staff to manage it. In addition to staffing the collection and making themselves available to graduate students and visiting scholars from around the world, the Todds also teach, conduct research, write and remain directly involved in the world of strength training.
Terry Todd with Arnold Schwarzenegger at the 2002 Arnold Strongman Classic.
Five years ago they created the Arnold Strongman Classic at the request of Schwarzenegger, and now direct the annual event. The strongman contest, which is one of 20 sports that make up the 15,000-athlete fitness extravaganza, is considered to be the most prestigious strongman competition in the world and is televised around the globe.
For the past four years Jan also has co-directed Project Firepower, a research project designed to help women attain the level of strength and physical fitness necessary to become firefighters. Together, Jan and Terry are working on a book about Muscle Beach, and Jan is co-editing a book for the University of Texas Press on gender and sport. And Terry continues to coach Mark Henry, an Austin powerlifter/weightlifter who over the past 10 years has been described by many experts as the strongest man in the world.
"I'd say that Jan and I are well-matched," says Terry. "We're on the large side ourselves, and it seems that we've surrounded ourselves with large things, from the fitness collection to our Mastiffs, Maine Coon cats, Percheron horse, Karloff, and Charolais cattle. We even have a life-size copy of the statue known as the Farnese Hercules under a giant live oak tree in the front yard of our ranch house. "
It's under that live oak, in fact, that former national and world superheavyweight champion Mark Henry was married on April 23 of this year…by a strongman/minister who, with his bare hands, bent some of the wrenches and mangled some of the horseshoes in the collection.
[/cmsmasters_text][/cmsmasters_column][/cmsmasters_row]