As some of you may already know, The Stark Center serves as the official repository for the preservation of the UT Athletics' archives, in addition to housing one of world's most important libraries related to health, fitness and physical culture. The Stark Center's holding related to UT sports includes more than 300 boxes of materials from the UT Athletics Media Relations Archives as well as personal papers and memorabilia from Longhorn coaching greats Jody Conradt, Augie Garrido, Clyde Littlefield, Mack Brown, Harvey Penick, Pat Weiss, David Snyder, Wilmer Allison and many individual former athletes. If you've visited The Stark Center recently, you have seen some of the artifacts from these collections, such as Mack Brown's practice schedules and game plans in the Coaching Greatness exhibit, and the basketballs gifted to Jody Conradt in commemoration of milestone wins during her illustrious career as the women's basketball coach. Early football star Leonard Barrell's football cleats sit in a display case alongside a special blanket gifted to the members of the 1914 football team to keep them warm, in the days before letter-jackets. The blankets are the first item used by a UT team to bear the word "Longhorns" and include an image of the long-horned UT mascot. This specific blanket belonged to Theo Bellmont, UT's first Athletic Director.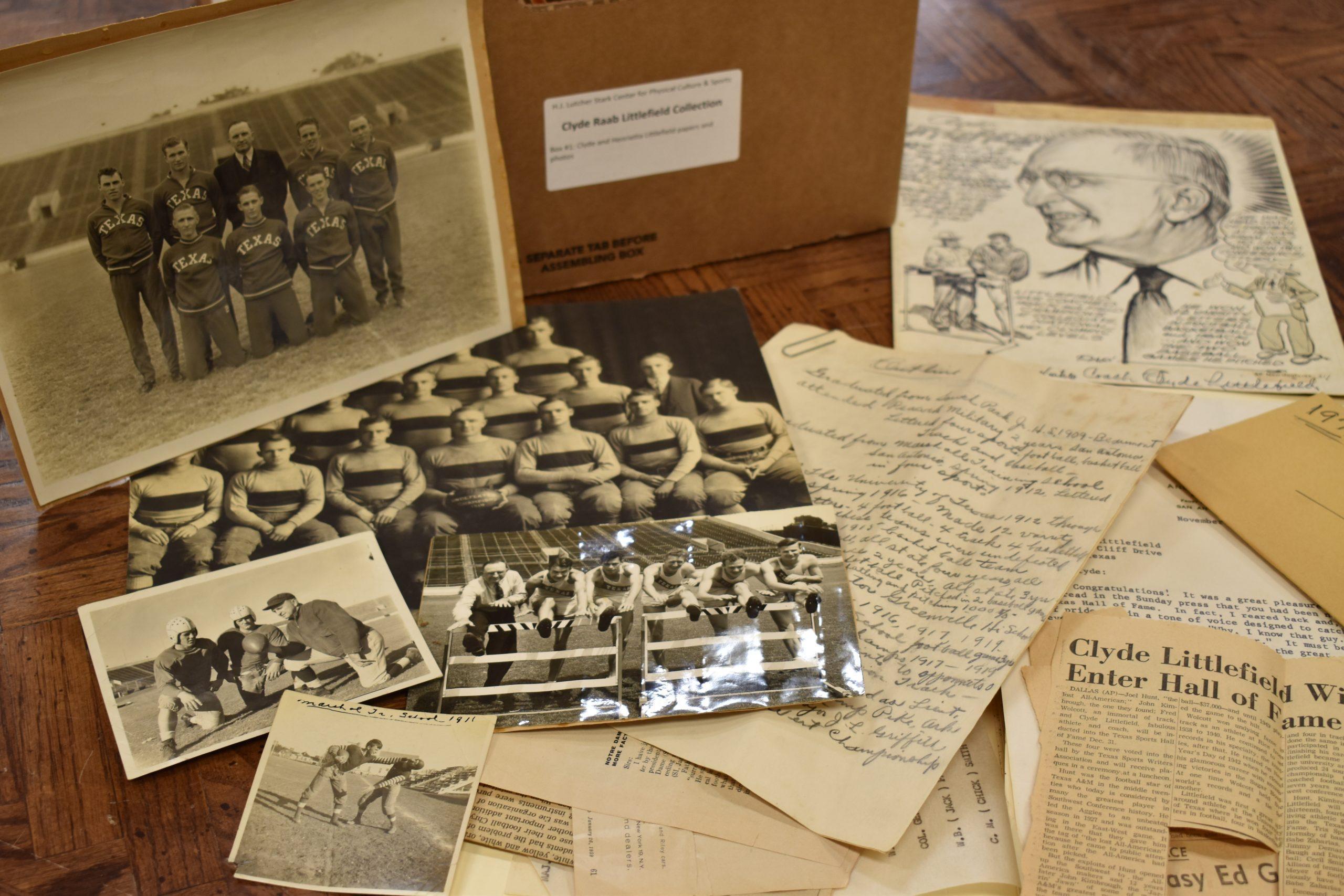 Maintaining these collections and providing access to the history of UT Athletics is an important part of our mission at The Stark Center. However, the maintenance of such a collection requires conservation supplies to properly house such materials and staff time to process the collection for long-term preservation. For these reasons, we're dedicating this 40 Hours for The Forty Acres fundraising campaign to raising funds that will be used for the preservation of UT's sport heritage.
Our specific goal for this fundraiser is to raise funds to archivally preserve the UT Athletics Media Relations Files. The collection contains primary-source materials related to the history of UT sports—season by season, team by team. The files date to the earliest days of UT sport and consist of clippings, scrapbooks, media guides, programs, press releases, correspondence, and other kinds of rare memorabilia.
For long-term conservation, this important collection needs to be housed in acid-free folders inside of acid-free boxes. To properly house these materials we need to purchase 300 archivally safe, acid-free boxes; 9,000 archivally safe, acid-free legal folders. We also hope to raise enough funds to hire a trained graduate student from the University's School of Information to process the collection and see it to completion. Your gift to this project will help make these materials more available to researchers, and most importantly, ensure that the history they contain is saved for future generations of Longhorns.
Please help us preserve the history of sport at UT by donating to our 40 Hours for The Forty Acres fundraising page now. Click here to visit our campaign webpage and make your donation.