Physical Cultures of the Body
Virtual Conference, 2023
Physical Cultures of the Body Award Winners
David P. Webster Graduate Student Essay Award and  Terry Todd Award for Best Paper by a Working Scholar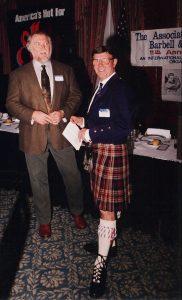 Terry Todd (left) and David P. Webster, O.B.E. (right)
The David P. Webster Graduate Student Essay Award was not awarded this year due to no graduate student submitting an essay.
The Terry Todd Award for Best Paper by a Working Scholar was won by
Basudhita Basu, Ph.D. – Physical Exercise as Preventative Medicine: Looking Back at Colonial Bengal (Circa 1860-1947)
and
John Fair, Ph.D. – "On The Horns of a Dilemma": The Beleaguered Life of Hitler's Greatest Weightlifter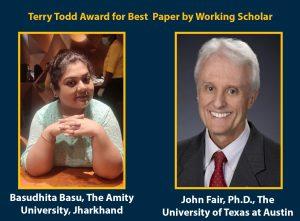 Below is a list of the 2023 Physical Cultures of the Body conference participants who have provided written consent to the publication of a recording of their presentation. Clicking on the title of each presentation will begin playing its video recording.
Dr. Basudhita Basu
Physical Exercise as Preventive Medicine: Looking Back at Colonial Bengal (circa 1860 – 1947)
Maria (Natascha) Louw, Francois Johannes Cleophas, and Wilbur Kraak
Reconstructing Performance Narratives of Three Herstorically Significant Springbok Women Rugby Players Between 2002 and 2016
Una Tamlyn Visser, Francois Johannes Cleophas
Rhythmic Gymnastics: A Woman's World?
Airnel T. Abarra, Tamás Doczi, and Janice Juaban
Dynamics of Coaching Female Bodybuilders vis-à-vis On-Site and Virtual Environments: An Ethnographic Approach
Elsa Richardson
Diversions Day by Day: Gamification and the Edwardian Workplace
Harry Hayfield
A History of Muscle: From the Dawn of Time to the Modern Age
John Fair
"On The Horns of a Dilemma": The Beleaguered Life of Hitler's Greatest Weightlifter
Conor Heffernan
Professor Szalay and the Birth of British Weightlifting
Adam Mills
Edward 'Ned' Hanlan: A Role Model of Canadian Values 
Charles Stocking
The Meaning of Marathon: New Evidence on an Old Problem 
Graham Hudson
The Art Work Out 
Alec S. Hurley
Physical Culture and Social Conservatism: Examining Progress through Paradox in Frederick Law Olmsted and Bernard McQuaid's Parks Development in Rochester, NY
Max Leconte
Les Nouveaux Rois de la Force: The Forgotten Culture of French Weightlifting During the Interwar Period
Rachel Ozerkevich
Glamorous, Feminine, and Muscular: The Problem of the Strongwoman in French Advertising Posters, 1879-1899
David Chapman
Wrestling at the Fête Foraine: Force, Farce, and Film